Sylwia Ziemacka and Andrzej Braiter talk to James Nam, President of the Korean Community in Poland. 
How would you describe the Korean community in Poland? Who are the Koreans who have moved to Poland?
Many Koreans in Poland are employees of major Korean companies like LG, Hyundai and Samsung or diplomats. There are also many students who come to learn music, and people like me who started their own businesses.
I was selected as the chairman of the Korean community at the end of 2019 and I started my activity from 2020 when COVID19 started. It was a hard time but our community was getting bigger. In 2019, we reached 300 companies and our community became bigger and now the number of Koreans in Poland is 5,000. Also in 2021 Korea was the biggest investing country here in Poland.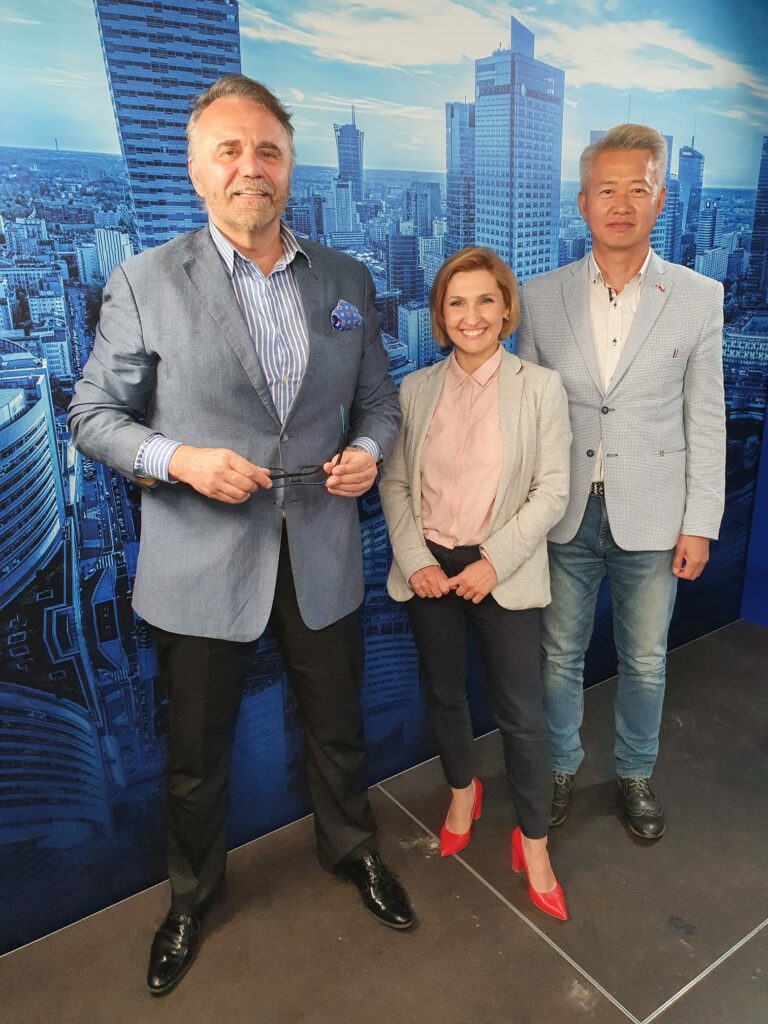 What sectors are key for your operations here in Poland?
There are many sectors. The leading ones are energy and electronics. LG Energy Solution invested a lot to produce the electric car battery. Samsung Electronics made Warsaw its R&D center in Europe. They hired more than 2,000 Polish technicians to develop and improve their technologies. Also Hyundai Group is coming with a big project. One is in Szczecin and another one in Płock to develop petrochemical production. Hyundai Rotem provides modern trams to Warsaw. Some other medium and small size companies
are located near the bigger Korean producers and they produce various spare parts for cars, even to customers located outside Poland but close to the borders like Hyundai Motors in the Czech Republic and Kia Motors in Slovakia. Koreans are moving in and engaging very strongly in many cities across Poland.
Korea is undoubtedly a leading economic force in Asia, but not only in Asia, in the world. How would you define the economic situation of Korea?
In 1953, after the Korean War between the North and South, our GDP was $70 per capita. Last year it was $31,000. In 70 years Korea has achieved so much from nothing. We have developed quickly and we are still developing.
Our trade volume is currently the sixth or seventh highest in the world and in many sectors we have good and growing companies.
What's the level of Korean investment in Poland? What's the future of our bilateral relations? What fruitful results could we expect soon?
Korean companies study the situation in Poland. We've learnt from the Polish government that it wants to focus on five areas, including green energy and eco-friendly technologies, transportation systems, health and medical industry, as well as digitalization and the IT industry. What's also important for Poland is an enhancement of national competitiveness. Korea has made a big success from scratch and we are still on the development path. With our experience, many Korean companies are looking for good partners here in Poland to create new business relations together in these five future industries. We have quite strong digitalization and IT industries and the medical industry as well and many others. That's why more and more Korean companies with innovative ideas will come to Poland.
As the chairman of the Korean Association almost every month I host new delegations and new people from Korea. So here in Poland we have our embassy and we have KOTRA, the official trade and investment organization to guide the Korean companies. Also our Korean Community, as a civil level association, we are guiding them to find good business opportunities with the proper partners.
Culturally, Poland and Korea are seeing growing interactions as well. There are more and more Polish cultural experiences that are being hosted in Korea, like art exhibitions and cooking classes. In Poland our annual Korean Festivals have been expanding in scale as well. Korea's cultural influence is growing quickly around the world, from Oscar-winning movies like Parasite, global Netflix series like Squid Game, music from Psy (Gangnam Style) and BTS, and of course even in sports with soccer players like Son Heung-Min, who is like Poland's Lewandowski. Korean food like kimchi and bulgogi, even alcohol like soju, are well-known and well-loved in Poland already. I think the cultural connection that is happening through art, cuisine, language, and music will continue to bring the two countries closer together for a strong and dynamic partnership.
I assume Poland is perceived by Koreans not only in the context of its domestic market, but also as a gateway to the European Union, right?
Yes. So for transportation, we have the Trans-Siberian railway and also Belt and Road Initiative (BRI), routes that are coming to Poland and through Poland. Then the goods are distributed to the whole of Europe. Koreans understand the importance of the strategic location of Poland. It creates a lot of opportunities.
That's why many Koreans are coming and more Korean companies will come once they want to do business in Europe and work with the European partners. They want to come to Poland first to establish a strong foundation.
Do you see any potential for Polish companies to go to Korea?
The Korean market is quite big with a big population of more than 50 million people. And as I said, our current GDP per capita is $31,000. So we are ready to spend. We need good quality products. Last year, we exported from Korea to Poland goods and services worth around $56 billion, but from Poland to Korea it was only $8 billion.
So I think there are many opportunities for Polish companies to develop in the Korean market. For example, Korean importers associations organize many fair trades. I suggest that Polish companies participate in these events to learn about the Korean market and find Korean partners.
I know that Poland is very strong in agriculture and the meat industry. Korea organizes international food fairs. Some Polish companies have already participated in them, but there are more Polish companies that can go to Korea and to develop on a new big market.
Korea is also a country that is invested in beauty and cosmetics, and even Polish brands like Ziaja have been successful in Korea.
Thanks to increasing cultural interactions and also the direct flight from 2016 by LOT from Warsaw to Seoul, many Koreans are becoming more and more familiar and interested with Poland as well. For instance, the market for Polish pottery has been growing in Korea for the past few years. They will recognize Polish quality products and individual consumers will also be interested in them.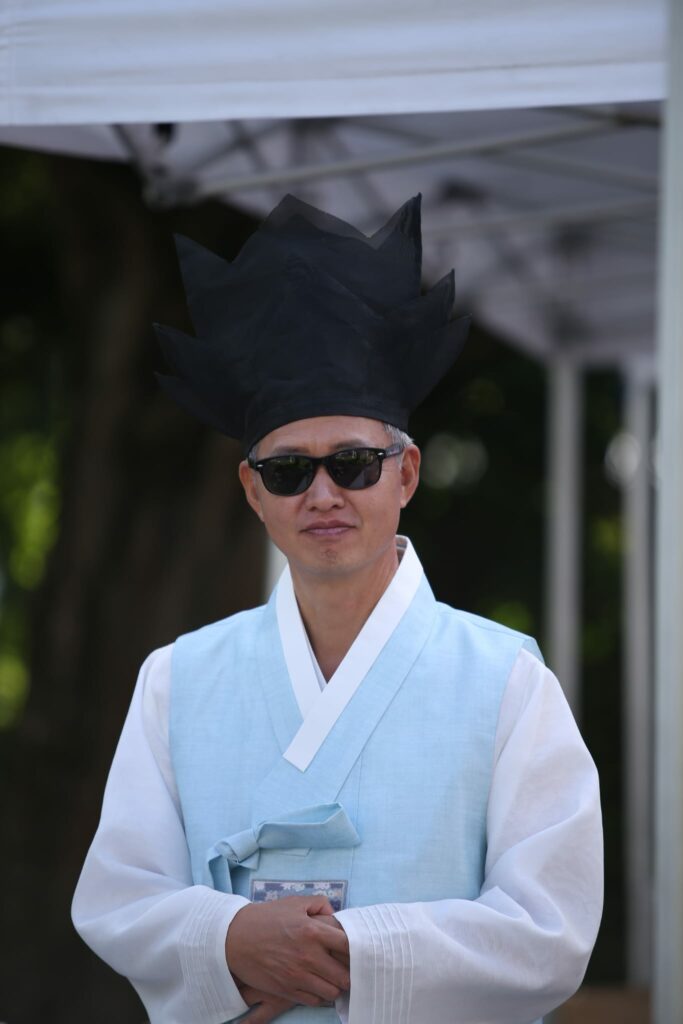 What's the perception of Poland among Koreans?
Very positive. Koreans treat the Polish people like brothers. Why? Because you had a very similar history as we Koreans had, so we understand the people here. But you also have great heroes, including Chopin, Copernicus, Marie Curie, Olga Tokarczuk, even Walesa that Korean people admire.
Many Koreans have respect for Polish culture. There are many Christians and Catholics in Korea, and they know that Pope John Paul II was from Poland. Our young pianist Seong-Jin Cho was the winner of Chopin Competition in 2015 and every year this event attracts Koreans to participate and explore some cultural areas. That is why we have many Korean students coming to Poland to study music as well. So even for cultural things, there are many ways we can do things together. Through tourist and cultural exchanges, I want to promote a deeper understanding and appreciation of both cultures and histories.
Recently, Koreans found out that Korean War orphans were also in Poland and this has made Koreans appreciate everything Polish people have done for Koreans even in the past. With the Ukraine war, Koreans have also been very moved by how much Polish people are willing to help Ukrainian refugees. Korea was a country that got a lot of help from the global community during and after the Korean War. We often remind ourselves that we are no longer a developing country but a developed one so we want to repay all we have received by contributing to fighting against global poverty and injustice and promote world peace.
From what you are saying, this physical distance is not a barrier?
There is some sentiment between our countries and let's say that the physical distance does not play such a significant role or at least it shouldn't.
I think when LOT started the first direct flight from Warsaw to Seoul, they understood the growing importance of connecting Poland and Korea. And this investment was crucial. More Polish people have been visiting Korea, and from Korea the flights are almost always full of people going to and through Poland. Physical distance is no longer a big problem.
But you need to have a proper strategy to enter the Korean market. For example we are looking for something special, even small but very unique that not everybody knows. In Poland, you have many hidden treasures which we Koreans are looking for and we are hungry to find.
As a chairman of the Korean Community, I want to promote the Korean market to Polish companies. Polish companies are not so aggressive in going that far east yet. So let's go together – I want to guide Polish companies in this process. This is one of my missions.
I know you are working on some new project that is a response to the current geopolitical situation. Can you tell us more about this and how Poland and Korea can act together in this setup?
I think, when the war in Ukraine is finished, there will be a new era. I believe that the reconstruction process of Ukraine will require lots of attention and cooperation. Ukraine will need huge support not only from Europe and America. It will need some new friends who will help to balance between Russia, the European Union and the US. Korea has a really strategic partnership with the US, and on the other hand China is our number one trade partner. We also have a great experience of developing from nothing. I think we can play an important role in supporting Ukraine together with our Polish partners, for example, in rebuilding or building new cities. We have experience in smart cities, in the application of intelligent technology. Korean companies can come and engage but when looking at the logistics or investment, it should be done through Poland.
In terms of the war, as we've started on the topic, has it changed the approach of Korean investors to Poland?
Frankly speaking at this moment many Korean investors who are operating here in Poland, and not only Koreans, face some difficulties because of inflation, because of the increased costs of raw material and transportation from Asia to Europe as it's getting more expensive. So all costs are increasing so in general it's not easy to operate at this moment.
But anyway, hopefully, there will be changes and more chances, and bigger markets and bigger demands. So for Korean companies who are operating here in Poland, they will have more business opportunities also related to the reconstruction of Ukraine. Koreans have a great experience in building infrastructure in Middle Asia and Africa. Many construction and engineering companies will come to find this business.
Already during the war, Korean religious groups, NGOs, universities, and other people have come to help with the volunteer effort. As Chairman of the Korean Association, I am grateful that Koreans have come and that they are working eagerly with the Polish people. We also have people of Korean descent from Ukraine who came, so many Koreans in and out of Poland have been trying to find ways to help them. For me, it is not just businesses and investors from Korea that I want to come to Poland, but other social, cultural, and academic organizations to be connected to foster new relationships and make synergy for mutually beneficial opportunities.
James, you are welcome to bring more Korean companies to Poland. You are a leading force in the new Eur-Asian association, which is an important element of this new economic environment. We hope that new Korean investors will invest in Poland, watching not only Ukraine, but all countries around.
I have been living here in Poland for 25 years. I feel like I need to make some contribution to Poland and to the Polish society. That's why I decided to build a new association(EurAsian association together for the better future) with my Polish friends. The main mission is to build good relations between young, smart Koreans and Poles. There is so much young people can bring to the world nowadays, and I want to help them direct a new future. I want to create more opportunities of exchange for them in various areas, like through art fairs in each country to promote their artists; film festivals because both countries love films; sports competitions and events like for golf, soccer, and e-sports.
Another vision I have is to motivate Polish entrepreneurs to go to Korea and guide them properly. I want to open the Korean market to foreign companies, especially from the younger generation. There are many smart players in Poland and I want to help them to understand and venture into the Korean market.
There are so many ways we can collaborate, and connecting my two homes, Poland and Korea, and bringing the best out of them each for mutual benefit and expansion is what I am really excited to do. I believe that through these opportunities, as we get to know each other better, business opportunities and more synergy effect will also come, and we can work together for a better future.