Interview with Artur Winnicki, Founder and Managing Director at Reesco Group.
There is a lot of talk about the pandemic changing work styles and office space. How have the expectations of tenants and owners of buildings changed in relation to fit-out companies in the area of office design?
I'll start with a pinch of skepticism as I wouldn't expect any revolution in the way office space is designed. I've experienced what the pandemic is about and suffered its consequences over the last several months. However, can they have any direct impact on changes in office designing? In my opinion – no, and certainly not in a significant way. Changes in offices that we have seen in Poland over the last six years are the result of the work of experts from the early 1990s. In 1989 Franklin Becker and Fritz Steele began studies on a new way of working and their results were published in 1995 in the book Workplace by Design. An important publication, The new office, by Frank Duffy, preceded by many years of research and analyses, should also be mentioned here. It was in the 1990s when the foundations for the design changes implemented in 2010–2020 were laid.
In my opinion, perversely, the pandemic may change the philosophy of designing home space but not office space. It will however change proportions, ratios and speed up certain processes. Flexible space, hot desks, a greater number of conference rooms and individual work rooms, functional zones, chillout zones – these are some of the elements that are a response to the long-term changing needs of the new generation of employees who are dynamic and work in the so-called "agile" teams. In the years 2010–2020, there was a lot of talk about the process of changing the proportion between the working time at home and in the office, and about the hybrid model. The pandemic sped up its implementation significantly, but this is nothing new. Working in this model has been talked about for a long time and corporate giants have presented it in their futuristic visions, e.g. a short film from 2009: Microsoft's Concept – Future vision 2020. Let's note that for us, representatives of the generations currently working on the labor market, intensive use of new technologies and virtual solutions has sort of become a necessity for practical reasons. However, it's not in our nature really. On the other hand, our children function in virtual space from an early age; that's going to intensify even more in the era of distance learning. We can predict that 20 years from now the working system as we know it will not be here, thus the design philosophy will change significantly. Office space will exist but people will learn to work better in a virtual environment and that will be the norm. The fact is that if the phenomenon that occurred in 2020/2021 is repeated, it may result in a shift towards completely virtual work, depending of course on the type of tasks and responsibilities. It seems, however, that only global phenomena which pose threats greater than the damage caused by totally remote work can force us to implement such solutions on a large scale. I'm optimistic and believe that the new reality I will experience in my lifetime will not differ that much from the one that had surrounded us before 2020.
How does the Reesco Group respond to these needs? How do you build your competitive advantages on the office market?
Reesco was established as a construction company offering interior design services. Our team including project managers, engineers and cost estimators focused on space primarily in terms of its proper execution and reduction of technical risk to minimum. We have specialized in finding and offering the most pragmatic technical solutions when the product, in the form of a concept or design, was presented to us and we were to make it. We observed market changes and trends and wanted to respond to the needs of customers more broadly, so we expanded our area of activities.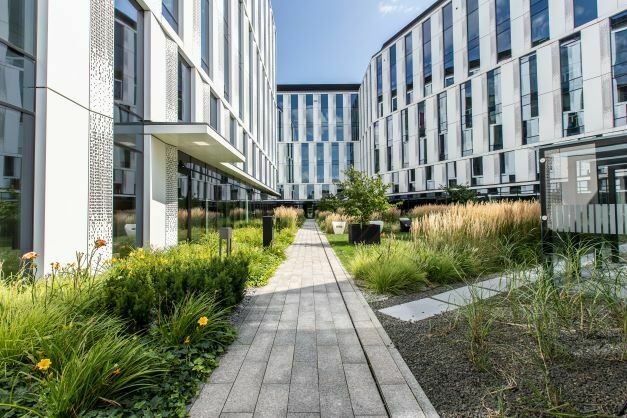 Iliard architectural studio, with over 40 designers on board, joined the Reesco Group thanks to which we've expanded our competences in the area of designing buildings as well as office, hotel and PRS space. With Iliard's design quality and Reesco's execution quality, we've created a comprehensive Design and Build service. Iliard studio is responsible, among other things, for the architectural design of the AFI V.Offices office building in Krakow, which was awarded the highest-ever BREEAM certificate rating in Continental Europe. With a rating of 98.87%, the building is ranked the second in the BREEAM certification globally in its category, after Bloomberg in London. This shows that we've acquired a key player on the design services market with many years of experience and the highest standards of designing hotel and office space in the world. As a result of this move, Reesco, previously a company with a strong technical and engineering focus in its activities, has become a company that looks at space more holistically, also from a work/life perspective. We design and create space, where you work and live well, in a comprehensive way.
Much has been said about offices in the post-COVID context. And what other trends will shape the office market in the years to come?
As I've mentioned before, the work environment in the future will be determined by the upbringing of our children. However, virtualization is not the only trend in which the youngest generation is growing up. The awareness of ecology and environmental stewardship is growing – we are more and more aware that our planet will hold us to account for this fully, year by year. In the face of climate change, the focus on elements such as sustainability in the construction industry and fit-out is no longer a distinguishing feature but a mandatory element. I believe that the idea of a circular economy will be of great importance. Skilful use of existing already built-in materials and not the constant production of new materials will be important. The same applies to office furniture which very often, when depreciated, does not offer any value for companies and a lot of furniture could be refurbished or given to the people who need it. In 2012, we established the "I Want To Help" foundation, which gives building materials and office equipment, originally intended for disposal but still working and useful, to the people who need them. We know how many people, families and institutions could still be helped and how many of them seek such help. These changes are already happening and the pandemic may actually accelerate them.
Reesco is a co-founder and member of Studio Alliance, a group of experts on the workplace sector in Europe. Do the trends in work environment planning and designing in particular countries differ or do we already have one international European market?
Workplace-related trends are very similar in most European countries. Particular markets differ in their approach to the process of shaping office space in practical terms. First of all, you can see differences in the direct customer profile, in the process of building relations with the customer and in how communication and cooperation are handled. This interaction between the service provider and the tenant is largely determined by the cultural background in a particular market. There are also different customs related to the outsourcing of fit-out services. In some countries design and execution companies work directly for the tenant and in other countries the owner of the building outsources the work to be done for the tenant as the end user.