Ewa Zbaraszewska is a designer who combines fashion with architecture. She creates projects aimed at women and making them feel beautiful and self-confident.
Ewa, we met recently and I was enchanted by what you do. In fact, I saw one of your coats before I met you and it made a huge impression on me. Where did the idea for designing coats come from?
Ever since I can remember, I have been amazed by beauty, harmony, texture, color. My grandfather was an architect, he created beautiful paintings. I think that growing up in love with the fine arts had a big influence on me. I am also an architect of interiors, it is the perception of forms and shapes of broadly understood architecture that inspires me especially. I can say that I have a real feel for materials such as natural steamed wool, which has a number of interesting features for me, e.g. elasticity, texture, and the possibility of modeling spatial shapes from it. For five years I have been running the Art Moda Polish Designers boutique in Stalowa Wola in my beautiful hometown, as well as the ART & MODA Foundation, which promotes unique architectural styles of our city: modernism, art deco and the last style, which is socialist realism. By acting as a designer and president of the foundation, I initiated the creation of the fashion community in Stalowa Wola, promoting and inviting local artists and designers to cooperate, hence these two worlds still interpenetrate in my work and interact with each other.
What do I design coats for? The reason may seem too simple … I was looking for extravagant outerwear in intense colors for my styling, which I did not find on the Polish market. One day I came across a beautiful steamed wool in the color of heavenly blue, which delighted me and this is how I designed the first coat – for myself. I have an Instagram, so I added a photo of myself in it as a post. I quickly noticed that it had gained a lot of "likes" and one of them caught my attention in particular. The coat had become very famous in the world of Hollywood stars, the so-called "red carpet" director Cole Walliser. I admit that it was a sign for me and I read it as the right direction in my work as a novice designer.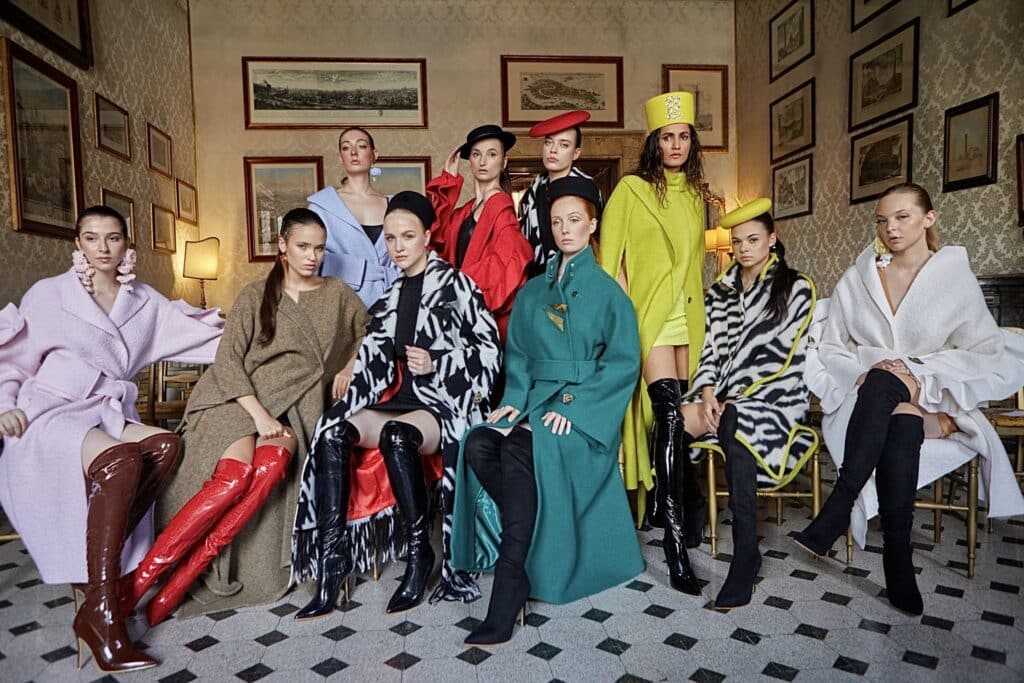 How long ago did you become drawn to the world of fashion?
I have always dreamed of designing and I am very happy that now is the time when I can fulfill my passions that have been in the sphere of my dreams and plans for a long time.
Your coats have a touch of romance mixed with modernity. Was this the intended effect?
My motto is to transfer two worlds that often function in parallel, fashion from "catwalks" and street style fashion. From the beginning, the idea of ​​my projects was to connect both of these worlds, i.e. all coats should shine on the catwalks and be available and find their place in the daily stylizations of each of us.
I know that you have been noticed and invitations to foreign shows have rained down. How did it come about. Which show do you appreciate the most? In fact, I saw two of your shows. One was more intimate and the other was in the beautiful Ferrajoli Palace in Rome. You weren't the only designer there, but you and your coats shone. Tell us about this show.
Already during the first show at which I presented the coats, they aroused great interest on the part of women and the media. I was noticed, there was an offer to take part in a significant international show opening Fashion WEEK in Berlin called Fashion Hall Berlin organized by Samira Günther. European shows open the way to presenting your collection to recipients from all over the world. After a fantastic show in Berlin, I started dreaming about Rome…. and soon I received an email with an invitation to the SATISFASHION ROMA event organized by the charismatic Kasia Stefanów in the beautiful scenery of Palazzo Ferrajoli in the heart of the Eternal City. I admit that I experienced this show especially …thanks to the ubiquitous beauty that surrounds us, but also the absolutely extraordinary atmosphere created by the amazing fashion connoisseurs who came there, among them my wonderful guests: Dr. Gabriela Mercik, Agnieszka Kozakiewicz, Dr. Danuta Mył, Monika Jakla and of course You Katarzyna.
I also saw the support of your family. Were they rooting for you from the beginning? Are they proud of you?
My sons Michał and Szymon and my husband Witold, who was with me in Rome, are invaluable support for me. Family and their opinion is a key value in my life. However, I would like to add that I was accompanied by a team of friends, my task force; brilliant photographer Małgorzata Giebułtowicz and Julia Kułacz, who creates beautiful and unique jewelry.
Do you know what your next steps in the world of fashion will be? Will you surprise us again?
I am constantly working on new projects, building a website with recipients from all over the country and abroad in mind. My idea is to create for all women, for each figure I personalize coats for specific clients.
Can we expect you with a show in Warsaw?
It will be with great pleasure that I will be at the show in Warsaw whenever I have such an opportunity.