Sylwia Ziemacka talked to Raymond Cloosterman, CEO of Rituals about happiness, wellbeing, daily pleasures and the success story that it has become.
What made you start your own business and give up your previous corporate life?
After finishing university, I joined Unilever corporate and I worked there for 12 years. This is where I made my career and I was actually doing quite well, growing fast and going up the ranks quite quickly. At a certain time, I was asked to think about how to set up new businesses, how to build new brands for Unilever. I decided to go on a journey to look for some inspirations and make sure that I meet inspiring people, go to inspiring places where new thinking was going on. I went to trade gurus in different parts of the world. The perfume houses, the research centers of Maharishi and UNICEF. I went to many different places, from shopping in London, New York, Tokyo, to visiting the small new kind of little stores and trying to pick things up.
I came back with this idea of creating a new beauty brand with a new perspective on beauty using different insights. I resigned from Unilever and started my own business journey as an entrepreneur with a clear conviction that I want to build up my own brand.
For me it was a big step, leaving a successful corporate career somewhere in my thirties and starting a company from scratch with two friends in a basement. It was moving from one world to another. An extreme world. But I wanted to do it.
I've been building this idea and building this brand with very talented people around me for more than 20 years now. I never quit even though sometimes it was tough. I never gave up. If I had, I would have felt like I had let a lot of people down who had followed my dream and been very supportive.
The beginning was not easy. For the first two years we were working in the basement on our products. I think it took us four years to get from one store to a second store. And today, in November, we opened nine stores in one week.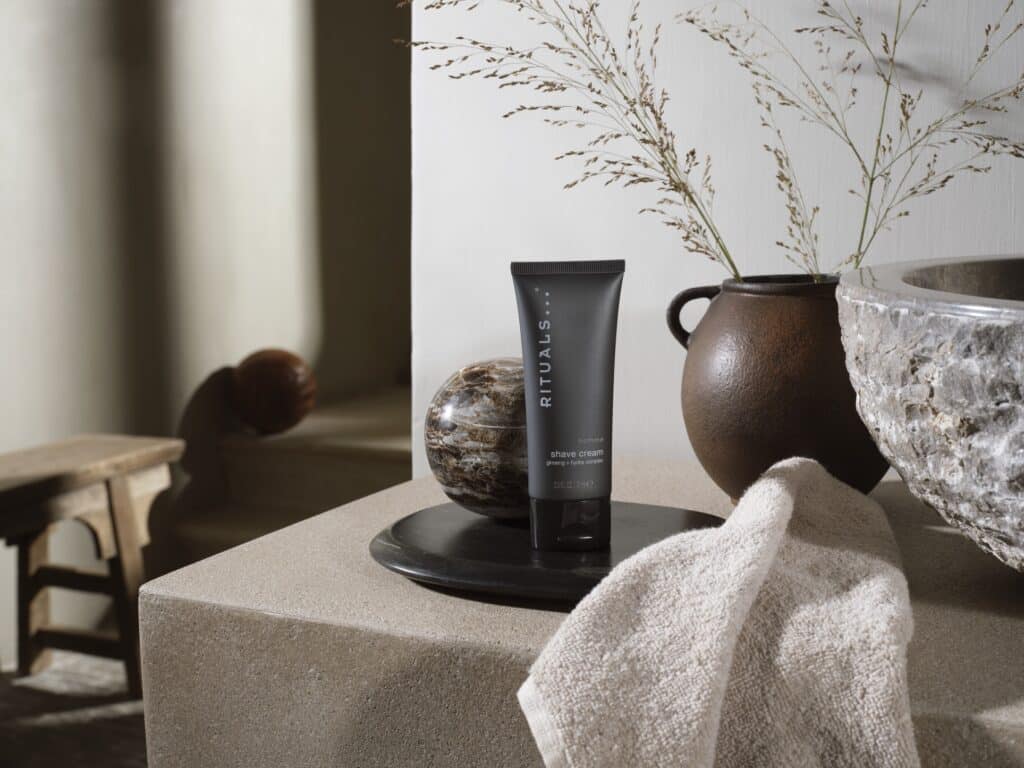 Were you aiming to create a global brand from the beginning or was the concept developed as the company grew?
No, I had a business plan, which I still have – an historic file, which looks quite impressive. Following the Walt Disney quote: "If you can dream it, you can do it," I believe that the imagination is more important than the numbers. Everything starts with imagination. And so we had a plan that was useless after two or three months, because in real life we went in a completely different direction. Initially it was about supermarkets and one store. Then, after a couple of years, it was one store with a digital environment around it, which became the basis of our success.
How do you define the brand Rituals and is this definition the same definition as when you started?
I think if you look at the first Rituals campaigns or the first little movies about the brand, it's actually still the same kind of DNA. In our stores, we say, happiness can be found in the smallest moments of our lives. This is still in the heart of what we do. Initially it was about changing routines into rituals and then it quickly evolved into mindfulness.
I'm laughing that we were a mindfulness brand from day one before this concept existed. We have always been about the products and passion which goes into the products.
Now we're moving from wellness and mindfulness towards wellbeing. That's where I want to go over the next 10 – 20 years and really develop in the luxury segment. We aim to become a wellbeing firm, which combines products with services and a unique consumer experience. Next to our beautiful products and our recently launched app, you can have breathing exercises, meditation exercises. In 2021 launched a beautiful department store in Amsterdam, the House of Rituals. There is also a restaurant, body SPA, the world's first mind spa and all kinds of luxury lines. You can create your own fragrance, your own shampoo – beautiful, bespoke concepts.
We take this theme of wellbeing very seriously and we are taking the Rituals brand to the next level.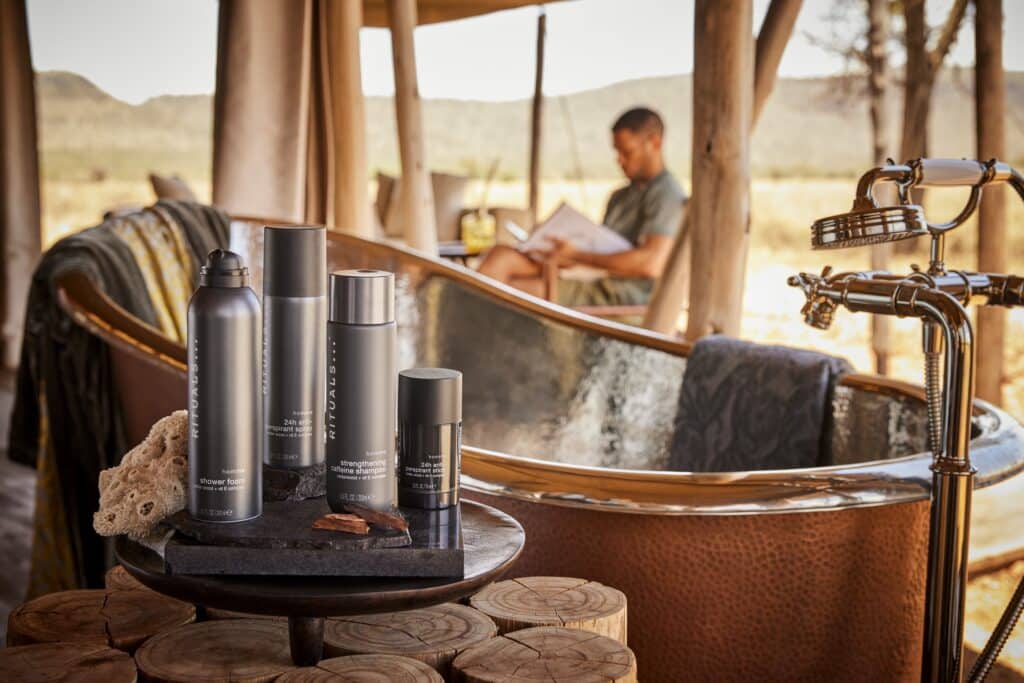 Have you always been a person who enjoyed little things by introducing rituals into your life or is the Rituals brand also a personal journey that made you discover the power of rituals?
A bit of a mix, I would say. Of course, when you work with this, you become more aware of it and you start to deep dive into the topic. But intuitively, I think I always did a lot of that in my whole life. I was raised as a Catholic and church was the first time I was confronted with all these little rituals and the double meaning of everything.
Life is what you make of it. My father passed away when I was eight. I was raised by my mother and this was her philosophy. And therefore we had a very happy childhood and she taught us how to enjoy these little things.
You help people to create new habits not only in terms of happiness but as B-Corp are you also driving consumers' awareness in terms of environmental issues?
I had two moments in the past ten years that made me very proud. One was the opening of this flagship store, which was a way of trying to push ourselves out of the comfort zone and really rethink the store experience. That led us to this concept of wellbeing. It was one of my highlights and has been the starting point of a new journey for our company for the next 20 years.
The other highlight is getting our B-Corp certification. Three or four years ago we looked in the mirror and realised that we could do more in terms of sustainability. That was the moment when we said we have to continue our transformation. We decided to go through the toughest certification in the world. I found the B-Corp movement in California. As a consequence we got the guidelines on how our company had to change.
Everybody had to really put the best effort into changing all the different elements in the background. And we are very proud that last year we became one of the first brands in the beauty industry getting this certification.
Now if you look at what we're doing, giving people wonderful luxury products that make them feel good, but they need to be sure that in the background we're doing everything from a sustainability perspective so that they don't need to worry.
That is quite a paradox to manage because we're trying to build a luxury prestige brand in an industry which is about more and more packaging, more beautiful fragrance and more ingredients for it. And at the same time we want to be sustainable, which is about less. Is that combination possible? We said yes.
That's how we started a couple of years back to really operate in this new concept. This year, all formulas will be more than 90% natural. We aim to be the biggest seller of refills in the industry. We tried to become a gift brand without using wrapping paper. So we're really trying to rethink everything we do to make sure that we live towards our sustainability goals.
So B-Corp is very close to my heart. I have four kids, so we need to make a change and we can make a small contribution with our brand.
This certification really helped us to get everybody gathered around the same theme. It's a big theme if you want to have young people working for your companies these days. It's about impact, it's about purpose. So I'm glad we have all these things in place. That's why we're successful in attracting many talented people to Rituals.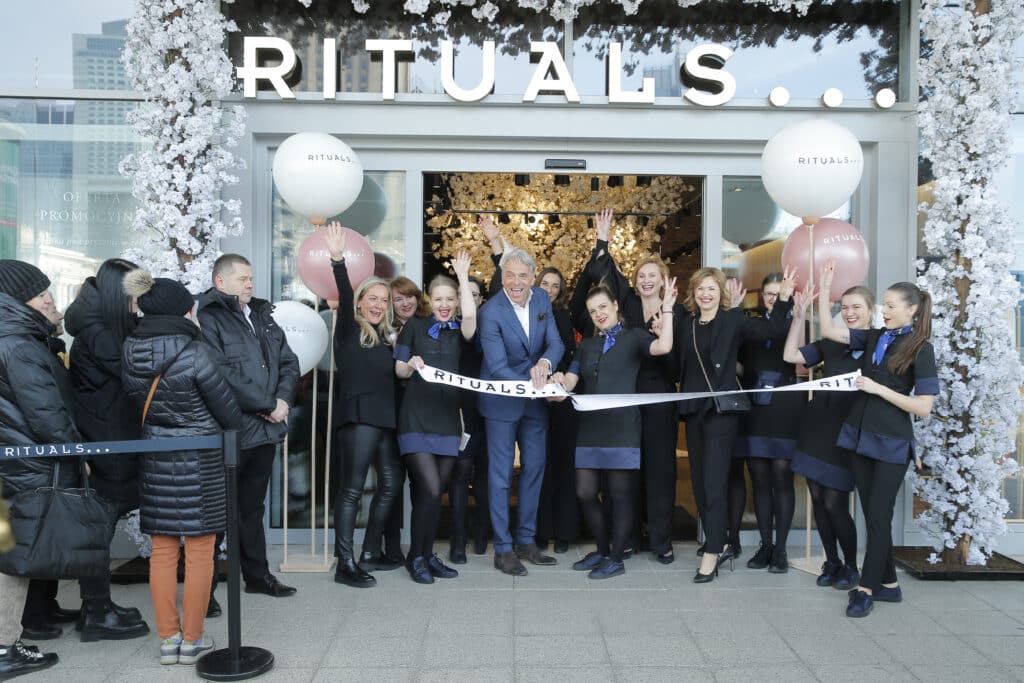 Let's switch to the business angle. You have just opened your 22nd store in Poland. What's your perception of Poland?
Poland is actually a big surprise for us. A positive one. When we started Rituals, for the first 10 years we were in survival mode. Then we started to grow very fast and we focused more on other parts of Europe first. We became successful in Germany, in the Nordics, in France and we decided to move into Eastern Europe. Poland is, of course, the number one country in CEE so we started here. First we were a bit afraid that our brand was too expensive for the Polish market. Before launching our first store, we introduced our products in Sephora and Douglas. The sales results were so good that we felt very comfortable. The fact that we were so big already in Germany also helped as people travel a lot, they see a brand and they like it. Our launch in Poland is one of our most successful launches so far. Now we opened a 22nd store and we are aiming for more.
What are your plans for the upcoming years?
We have a lot of plans. My dream is still there to build a global wellbeing brand. And at the moment we are a very successful European brand. My dream for the next 20 years is to become a wellbeing expert, which is not only with the products but also the services and all the kinds of things which are talked about. It's also about introducing our brand successfully to other parts of the world. Currently we are starting in Asia. Just last year we opened our store in Hong Kong and this year we're going to open in Singapore and Bangkok, Kuala Lumpur and maybe even Tokyo. So for me it will be very exciting to see whether it will be a challenge like it was in Europe in the first couple of years or whether we will take off as it has, for example, here in Poland.
What are your plans for Poland?
Our first stationary Rituals Cosmetics store was opened in August 2021 and now we have 22 locations across Poland. We are not slowing down and we are preparing for the next stage of our expansion. We aim to double the number of stores by the end of 2023.
Seeing the consumers' reactions to our brand we believe it's possible. Of course we also have to learn how to introduce our concept in the smaller cities but we are very excited.
Also from Poland we plan to move to other parts of Eastern Europe as well. So still a lot to learn and a lot to discover. That makes me feel excited like in the early days of the company.
Somebody said and I liked it a lot that when we talk about wellbeing, every morning 20 or 30 million people wake up with a smile or go to bed with a smile because of Rituals.
So just to summarize, we will continue to make people happy by finding pleasure in little things.