Polish regional cities are on the spotlight of investors, multinational companies, expats and tourists. Today our editorial team is taking a closer look at Łodź, Poznań and Katowice.
Łódź with ideas to shape the future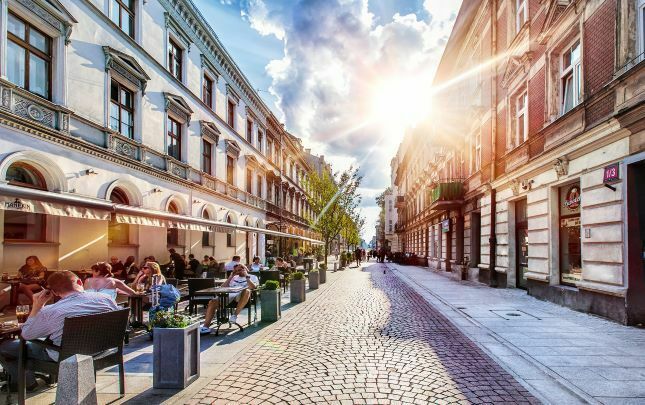 The City of Łódź Office and international consulting company Knight Frank have released a publication – "Łódź with an Idea for the Future" – which is an overview of programs and projects aimed at improving the quality of life in the Polish city for residents and creating an ecosystem that will support business development.
Łódź was ranked first in the Emerging Europe – Business Friendly Cities Perception 2020 ranking in terms of Business Climate – the most friendly city category – and was classified as the Best Special Economic Zone in Europe and third in the world, according to the FDI Free Zones of the Year 2020. This is the result of positive changes that Łódź has undergone in recent years, in economic, economic and social spheres.
"We focus on developing Łódź as a green, modern city with a sustainable economy and infrastructure, managed – which is worth emphasizing here – based on the cooperation of local communities, institutions and the administration. We believe that the synergy born of cooperation based on a variety of points of view and experiences – properly planned and managed – will be a spur for the further development of the city," says Adam Pustelnik, the Deputy Mayor of Łódź.
"Numerous revitalizations of neglected post-industrial areas, most often located in the city center, with historic post-industrial buildings, is definitely a feature that distinguishes Łódź from other cities in Poland. Due to such investments, unique places with an original architectural concept have appeared on the city map. These are city-forming projects which, thanks to a combination of various functions, best meet the changing expectations of locals. The key in mixed-use projects is not to place buildings with different functions next to each other, but to create a space for spending free time that is vibrant with life, i.e. services and cultural centers, taking into account the specificity of the place and surroundings. In Łódź, new developers take up the challenge of creating extraordinary investments, which are distinguished by the unique atmosphere of the place and interesting architecture," says Elżbieta Czerpak, Head of Research at Knight Frank.
Good year for business in Poznań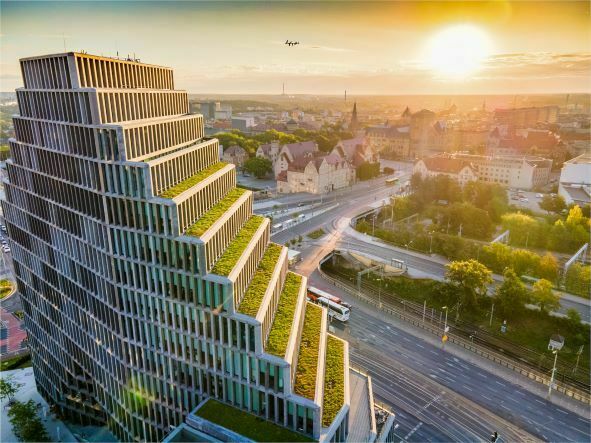 2021 abounded in new investment projects in sectors that are a priority for the City of Poznań. The city announced 13 new investments in the sector of modern services for business and IT, including those of Infosys, ALTEN Polska, B.Braun, Transcom and Nobl9. This means a combined 120+ BPO/SSC, employing in total over 24,000 people. Last year Poznań celebrated several anniversaries. The MAN Shared Services Center opened in Poznań 15 years ago. The McKinsey office has been operating in our city for a decade. Rockwool Global Business Service Center, Volkswagen Group Services, and Capgemini have been present in Poznań for 5 years. Computacenter celebrated its third anniversary. All these employers said they would increase employment soon in Poznań.
Additionally, the Chinese company Tuopu announced a new investment in Poznań – the world leader in producing components for electric-powered cars. Over 450 jobs will be created in its modern factory. However, we have not yet been officially informed about another new Chinese investment in the productive sector – the Sinoboom factory – which will hire around 100 people.
"The potential of Poznań for investments is shown by investors' decisions, who more and more often choose our city and create attractive workplaces here for our inhabitants, as well as the high international ratings by the Fitch and Moody's. I am glad that the unemployment rate in Poznań is again becoming low, returning to pre-pandemic levels. Last year proves that we are managing to create a great climate for investments and that businesses can develop and grow here," says Jacek Jaśkowiak, Mayor of Poznań.
Katowice – capital of international e-sports
One of the largest e-sports events in the world – the Intel Extreme Masters (IEM) – will be held for the tenth time in Katowice (south of Poland) from February 25 to 27. The prize pool is $ 1.5 million.
After a two-year break caused by the pandemic, fans will return to Katowice Spodek, with the best players and teams from all over the world turning up. There wil be 24 teams in Counter-Strike: Global Offensive (CSGO), including Poles, and 36 players in StarCraft, who will compete in the ESL (Electronic Sports League) international computer game league.
The Intel Extreme Masters finals have been held in the capital of the Silesian province since 2013. As the organizers said at the press conference on January 11, in no other city has an e-sport event of this rank been organized 10 times in a row.
"We can safely say that Katowice has become the world capital of e-sport, the Mecca of e-sport. Nobody can take it from us. This championship gave us a lot, it spun the spiral of important international events taking place in Katowice, such as the UN summit," says President of Katowice, Marcin Krupa. He added that the IEM organization had also contributed to the idea of ​​the Katowice Gaming and Technology Hub in the area of ​​the former Wieczorek mine.