In Western Europe, the USA and Australia, CLT successfully competes with steel, brick and concrete in selected market segments such as multi-family housing. Interest in using this technology in Poland is also growing. For many reasons.
Wooden schools, hospitals, skyscrapers, entertainment halls, airports, and even a gas station or 9-story residential blocks – all this is created thanks to the modern CLT wood processing technology. It turns out that, apart from ecological aspects, the material is fire-resistant like steel, very flexible, healthy for users, energy-saving, light in structure and elegant, which allows for wide application. And the wood needed for its production is obtained from certified afforestation that does not damage the valuable tree stand.
A pioneer in the production of CLT timber was the Austrian family company KLH Massivholz. After developing the product in 1996 in cooperation with the Technical University of Graz, KLH opened its first production plant in Teufenbach-Katsch, Austria, after three more years of research and development.
"We had a great opportunity to build a new type of material. When we started, it wasn't about climate change or potential disruptions to industrial development, although now it seems we are headed in that direction," says CLT inventor Prof. Gerhard Schickhofer of the Institute of Wood Engineering and Technology, Technical University of Graz.
Today, there are over one hundred CLT factories worldwide. Annual sales of cross-laminated timber are projected to more than triple in the coming years from the current $1 billion as governments around the world implement more sustainable building codes. Today, five countries are responsible for over 80% of global production: Austria, the Czech Republic, Germany, Italy and Switzerland.
CLT is a technologically advanced process that transforms ordinary boards into elements with an exceptionally high load-carrying capacity. By gluing the layers of wood at right angles, the panel is able to obtain better structural rigidity in both directions. While the construction industry tends to be slow to adopt new materials, the European Green Deal, the pandemic and the war in Ukraine have greatly accelerated the transition to bulk wood products that not only help reduce the building's carbon footprint, but also result in less waste and less time to erect. buildings, thus reducing costs. Elements made of CLT are so effective that architects around the world even use them to build ever taller skyscrapers. In Vienna, a whole new district of the city was built using cross-laminated timber.
In Poland, Polskie Domy Drewniane SA wants to increase the popularity of wooden houses. The company intends to build even 9-story blocks of Polish pine. Their mass production is to be facilitated by CLT technology. Last year the company received PLN 12.45 million in support from the National Center for Research and Development for the project of developing the technology of construction boards made of cross-glued pine wood from Poland, with an increased reaction to fire class, for the needs of multi-storey wooden construction. The plant is planning to start next year, and the company is currently carrying out research work on the so-called Polish CLT from SGGW. The CLT technology implemented in Poland, thanks to the non-spreading of fire, will allow the construction of buildings up to nine storeys high, which is a novelty on a national scale – currently the highest wooden buildings built in Poland have up to four of them. CLT boards will also be completely safe for human health and the environment.
The company was established by representatives of the National Fund for Environmental Protection and Water Management (owner of 99.58%) and Bank Ochrony Środowiska (owner of 0.42%). It began operating on September 4, 2019.
The factors that most inhibit the use of this technology in Poland are low level experience in building with CLT and some provisions of fire regulations. The fire resistance of CLT wooden structures is sufficient to implement its mass use in modern construction, fully functional, energy-saving and human-friendly residential, public utility buildings, multi-storey and even high-rise buildings. The technology is very promising and developmental, and the way to increase fire safety lies in engineering solutions.
What's the future of CLT technology in Poland? Adam Białas collected comments from market leaders.
Michał Czerwiński, architect from the WXCA studio
The architectural studio specializes in developing concepts and implementing complex projects, both public and commercial, requiring deep reflection on the specificity of the place, the multi-functionality of the planned facility and a perfect sense of the context.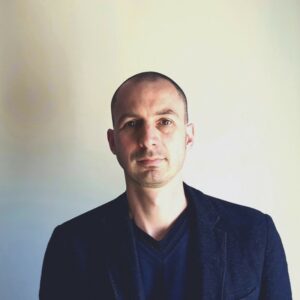 "The application potential of CLT is related to many aspects. The material itself – wood – as a renewable and ecological raw material, is gaining more and more interest due to the fact that we attach great importance to the analysis of ecological costs in the long term and on a global scale. CLT allows you to eliminate the natural limitations of unprocessed wood, such as warping, and the dimensional limitations of solid material. At the same time, developing technologies that give wood the features of a non-flammable material, not spreading fire, favor the expansion and rapid progress in the use of this material. At WXCA, we are very interested and believe in a future based on wise technologies of processing natural resources, and in this context, the renewal and new version of the culture of building with wood. This is reflected in the project of the Polish Pavilion at the EXPO 2021 World Exhibition in Dubai, in which we wanted to tell the history of the Polish tradition and modernity of wooden buildings. Inspire people to reflect on the relationship between humans and their surroundings, and on wise management of natural – renewable – resources. At the same time, We wanted to demonstrate that we – the Polish community – are interested in and participate in this global phenomenon of turning towards nature."
Dr. Damian Poklewski-Koziełł, architect from the Gierbienis + Poklewski design office
They designed using CLT wood technology, an educational building currently under construction in the Marszewo Forest Botanical Garden in Gdynia.
"Some countries in the European Union already have regulations in place which require that at least half of the materials used to erect a building should be wood or other material with high ecological parameters. It should be expected that similar regulations will also apply in Poland over time. Due to the growing pressure to reduce the carbon footprint not only at the stage of use of buildings, but also due to its life cycle, at the design stage, the processes behind the technologies responsible for the formation of specific building materials should be taken into account. Therefore, the use of materials with a limited carbon footprint becomes a necessity. Wood is such a material, what is more, during its natural growth, it extracts CO2 from the atmosphere, thanks to which these values ​​are also taken into account in the energy balance. Due to the above, the starting point for buildings implemented in the CLT construction is a negative carbon footprint. This makes wood an extremely attractive material that allows us, designers, to significantly reduce the negative impact of the building on the environment. If the European Union maintains its current energy policy, which is to be expected in the near future, it will be a factor that will determine the constantly growing demand for the construction of a building in CLT technology."
The construction industry is responsible for more than one fifth of all greenhouse gas emissions. Bulk wood is in fact capable of sequestering (storing) carbon dioxide, which can make a significant contribution to cleaning up and reducing the carbon footprint of a building. CLT can completely replace reinforced concrete structures, be a hybrid combination with existing materials and even apply to the superstructure of existing buildings with limited load capacity that could not be retrofitted due to limitations in classical technology. CLT components are 4.5 times lighter than reinforced concrete structures and can be assembled in less time than pouring concrete in place.
Krzysztof Zawartka, member of the Management Board of OMFO / KLH in Poland
The company is a representative of the Austrian KLH in Poland, which in just 25 years from the first garage work on CLT has achieved production capacity of up to 250 thousand. cubic meters annually.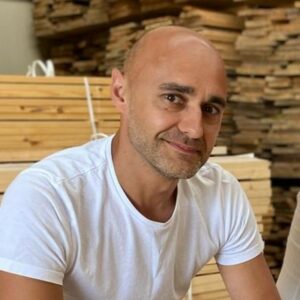 "In the last two years, we have noticed a significant increase in the interest in this technology on the Polish market, but above all in the awareness and knowledge of CLT. We also observe a large increase in the number of requests for training and the number of inquiries, but most importantly – growing awareness of the topic, which is already sufficient to start work on the implementation of projects implemented from traditional technology to CLT technology. KLH has already completed approx. 40,000 projects worldwide from CLT, and also the first in our country, e.g. the building of the Forest Botanical Garden in Gdynia."
Tomasz Szlązak, real estate specialist, former president of Polskie Domy Drewniane SA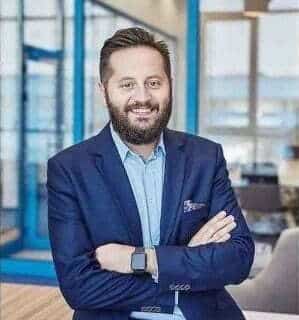 "In the coming years, the potential of CLT in Poland is huge. I see an increase in use in commercial construction such as office buildings and hotels in city centers, due to the soaring cost of other types of construction, especially steel, and a large increase in labor costs. CLT saves valuable working hours on site. And with steel prices at the levels of the last few months, the use of CLT and wood technology is simply profitable. Cross-laminated timber will begin to be used not only by enthusiasts in single-family constructions. CLT began to appear around the world on construction sites, where the architect wanted to reveal the aesthetic qualities of wood with the difficult conditions of the construction site. For various operational reasons, it was decided to use the prefabrication technology to save time and in the backyard for the building under construction. Technology in which the efficiency of deliveries counts, and in which only a group of people and a crane on the construction site assemble the structure, even for large facilities – has turned out to meet expectations and even exceed them. This is how, for example, student dormitories in London were created, where up to 70 percent was saved thanks to CLT. time needed to construct the facility."
Dominik Darasz, architect and partner of Horizone Studio
An architectural office specializing in the design of office, public and residential buildings and the creation of a friendly and modern urban space. The activity of the studio has been deeply rooted in the idea of ​​sustainable development for many years.
"Poles must change their prejudices and stereotypes regarding wooden houses, as well as prefabrication itself. Both of these terms have bad associations in Poland. One is due to rural superstitions, and the other is due to urban superstitions. We should trust the experience, both historical and present knowledge and trends, and manage the constantly declining resources of the Earth. Observing the development of technology with the use of renewable, natural materials, which in many developed countries of the world have been gaining popularity for years. Using nature and modern high-precision technologies can only do us good. Changing inner beliefs is not easy, especially for the pioneers of using and popularizing technology. In order to convince a client of a given solution, an architect must be convinced of it themself. Sometimes, however, our own and the client's conviction is not sufficient, because on the way we still have an official and a whole team of people issuing safety certificates. Fortunately, thanks to our membership in the European Union, some of these certificates obtained abroad must be honored in Poland. But that is only part of the success. When it comes to the construction technology itself, CLT is, in my opinion, one of the best available on our market, both in terms of the range of possibilities of the manufactured elements and the price-quality ratio. The range of manufactured elements enables their use not only in single-family housing, but also in multi-family buildings, public utility buildings and infrastructure solutions. At Horizone Studio, we have designed two investments for private investors using CLT technology, a city residence with an area of approx. 360 sq m and a modern outbuilding with an area of approx. 600 sq m. Both projects are in the phase of obtaining a building permit."
Marcin Gierbienis architect from the Gierbienis + Poklewski design office
Winner of numerous awards in national and international architectural competitions.
"We are not only designers, but also, and perhaps even above all, academic lecturers. Looking only from this point of view, we can say that wood is becoming an increasingly popular building material that students use in their projects. Analyzing the scale of the increase in interest in this material, we can even speak of a geometric progress, although five years ago, when we were designing an educational building in CLT technology for the Forest Botanical Garden in Marszewo, it was practically not used. The ecological parameters of wood seem to determine its popularity, because these issues are very important for architects of the young generation. It is them who in the near future will have a decisive influence on the shape of the construction processes in force in Poland. For this reason, we believe that wood will stay in our construction market for a long time. Of course, the decisive voice is on the side of the customers for whom we create our documentation and who bear the highest costs. In this regard, we believe that we are facing work on changing social attitudes, because we still have to fight the well-established opinion about wood as an expensive material and, in addition, nothing durable, which is not suitable for building a house for years."
Szymon Wojciechowski, president of APA Wojciechowski Architekci.
Existing for over 25 years, the studio is one of the national leaders in ecological design, which is confirmed by numerous certificates for buildings and awards for green construction.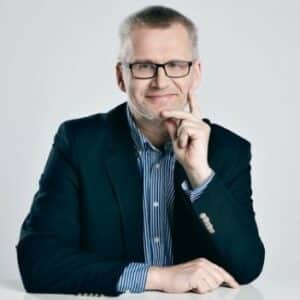 "It seems that the CLT construction will be growing and significant, but still a few percent margin in the overall construction. I hope that a lot of office buildings with a height of 5-6 storeys will be built, where the CLT skeleton shaping the interior will be fully exposed through glass facades. The taller buildings don't make much sense; skyscrapers built around the world are more of a manifesto of possibilities and a desire to be the first than common sense. The share of CLT construction may significantly increase if some significant market mechanisms are introduced to promote construction with a drastically reduced carbon footprint."
Wojciech Bieniek, member of the OMFO / KLH Management Board in Poland
"We are also aware of the problems that the CLT wooden technology encounters in the face of Polish fire regulations. We have gone through similar challenges in other markets. The most stringent fire regulations are in force in Australia. In Poland, this is just the beginning of the road. We have started cooperation with fire experts and notifying bodies, including with the Institute of Building Technology to provide investors, constructors and architects with all documents, certificates, fire studies enabling the implementation of any type of building, in particular large-size buildings. Already, construction works with CLT are being carried out in our country, and each subsequent one allows us to solve challenges and gain experience."