Jan Pawlik – Workplace Management Director at ISS Facility Services Polska.
The process of returning to offices has begun. Most likely, very few companies have decided to remain working remotely and very few want to return to their offices for an entire 5-day workweek. A hybrid model appears to dominate. How do employers – office tenants – and employees approach the new model?
This is an interesting and significant question that could take up this entire article, since the topic is multidimensional. To answer it briefly – we can see that despite the much talked about announcement of a return to the office, we have not seen it at the level of office space occupancy, yet. In the offices we monitor, the occupancy rate is quite low, reaching 20%. It seems, however, that many clients are still waiting to implement specific policies in the field of the work model. The ability to work remotely is proving to be a benefit that is incredibly valuable to employees. What's interesting is that in Poland housing space per capita is among the lowest in the EU.
Still, at the level of declarations and announcements – even if the implementation period of the new model is extended, we see the hybrid model as the one to prevailing. What does this mean for tenants and employers?
The hybrid model creates many challenges that not all organizations are ready to cope with. The question of why they can't cope is somewhat related to their approach to flexible working models from before the pandemic. The second reason is that some organizations have a very hierarchical structure, for whom the hybrid model seems significantly harder to implement. In the case of this vertical structure – exemplified by law firms or consulting firms – the role of the leader is crucial for the team's daily operation. As a result, it is challenging to implement remote or hybrid models. The third issue the most important one which not everyone is aware of – is that making the journey to the office has become a consumer decision, a bit like buying something in a shop. People have a choice.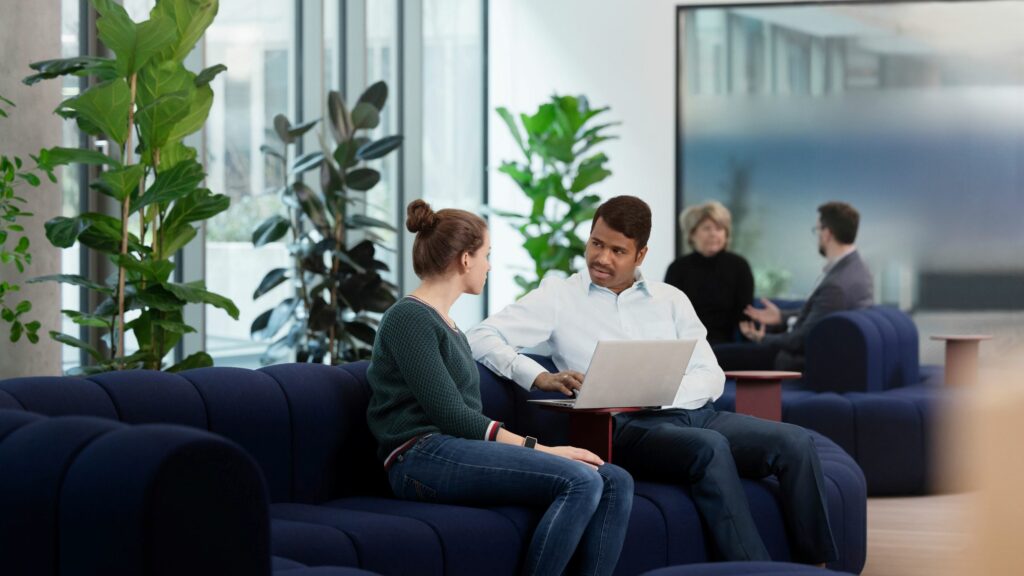 The office has become a kind of resource whose quality depends on the employer and partially on our placemakers. Providing these resources to an employee influences their decision on whether to go to the office. As long as we have an employee market, these challenges are huge. Especially if we think of the most competitive IT industry, where the wages are comparable in every company but the working conditions in each of them can differ. An office's location, its quality and the environment it provides, can be important criteria affecting a prospective employee's choice of employer. Another important aspect is what happens at the office, what kind of activities are planned and what may entice them to come to the office on any particular day. At this point, we enter the plane of workplace experience. It relates to the overall atmosphere at work and, in turn, reflects a company's values.
However, it is also worth remembering that we have a large group of young employees who have never worked in an office – for them the value of a cup of coffee with the boss and networking with colleagues can be quite abstract. And yet, apart from young people, more mature people also go to work, as do people with children – they all have different needs. In addition, research shows people have certain expectations regarding work. My impression is that some things are far more difficult to implement remotely – mentoring, appreciation, professional development. So, I'm curious if we're not getting into some contradictions here?
In my opinion, workplace experience has absolutely everything to do with it. As I said, as long as the employee market lasts, you, the employee, make the choice. And here everyone can have different priorities. Some may decide that s/he prefers to work remotely or move to his/her parents' home, perhaps to a smaller city, thus saving several thousand zlotys on rent. If it involves the loss of some career opportunities, then that's hard. The workplace no longer seems to be something permanent, as work itself. See, for example, how we describe ourselves on Linkedin has changed. We tend to see positions and company titles less, and more often than not they get replaced by areas of expertise and interests.
This is a challenge for employers who try addressing it in various ways, often using a carrot and stick method. An example of the stick method: Google in the United States has recognized employees are moving to cheaper locations and working remotely, and so argues their pay should be lower. The company introduced a special algorithm which factors in the distance from the office. Would you like to work from a cottage in Masuria? Okay, but you are on a reduced salary to be fair to others.
How about carrots? Employers are looking to create a place where everyone wants to be, instead of plain office spaces. Companies with a happiness officer or work experience manager, a person planning and providing daily activities and entertainment, are more commonplace nowadays. In the good sense of the word, they integrate employees with their environment and help build a sense of belonging in the organization. It is also about involvement in non-business activities, and those related to the company's impact on social issues and the natural environment, as well as other issues important to us as individuals.
So, talking about going back to offices is also talking about ESG?
Yes, ESG has already become a separate category of activities. Before the pandemic, it was quite an abstract idea, and I would say quite extravagant Back then, very few companies were interested in the topic. Suddenly, it became popular and widespread, and an element of organizational culture. In the past, people who dealt with workplace experience or the workplace in general, dealt mainly with organizing space and counting desks, it was rather like dealing with space management. Today, the trend is to shift these particular topics towards HR.
Why?
Because it is all about meaning and commitment on both parts – the employer's and the employee's. It is crucial to build an employee's commitment and provide identity within any organization they may be joining. These efforts pay off, leading to a reduction in employee turnover rates and encouraging an organic sense of belonging and loyalty towards the employer.