Interview with Jarosław Prawicki, Leasing Director at Karimpol Poland.
How is the office market reacting to the tenants' needs to attract employees to offices?
The office market changed a lot during the pandemic period. In fact, this is the first time we have experienced real remote work. The trend of switching to this mode of work has been talked about for 10 years, and the pandemic accelerated it. On the one hand, employees found out that it is possible to work remotely, but also during these two years they experienced the inconvenience of working from home. They began to see not only the advantages, but also the disadvantages of such work.
Now, companies are slowly returning to their offices. It is different. Some people return to their offices faster, some return permanently, while others are partially. First of all, I think the problems that employers were not fully aware of are related to people's attachment to work. Because an employee working outside the office, from home, feels less connected with the company and the employer, it might be much easier for them to change employer. And what we hear from many of our clients is that they don't see their employees associated with the company. That is why many companies are now not just encouraging, but also forcing their employees to work at least partially in the office. And we, of course, as a developer, as the owner of office buildings, try to help as much as possible.
What do you offer your tenants today to support them in the process of returning to the office?
First of all, we offer them a lot of technological support in terms of working in a rotational system. We have created a special building application that allows, inter alia, reservations of parking spaces, desks and conference rooms. The application also enables contactless access to the building, i.e. it replaces physical access control cards. We have integrated control on our phone. We don't need anything else to go from the parking lot to the office and sit at the desk. The application also responds to the need for health and safety caused by COVID.
The second thing is helping tenants optimize their resources. Many companies reduced their offices or resigned from them altogether, especially in locations outside city centers. In Warsaw, instead of a much larger office somewhere in a non-central location, they prefer to rent new smaller ones, but in a better location. We started commercializing Skyliner during the pandemic and our location at Rondo Daszyńskiego was one of its advantages.
We talk to our tenants almost every day, asking how we can help them attract people to their offices. One of such methods was the earlier opening of the canteen in the building, because we wanted it to be available to tenants.
Location is always very important, but now perhaps for a slightly different reason than before?
Yes, Location is always crucial for real estate, but nowadays even more so. Central office buildings have always been perceived as prestigious. Today, there are mainly practical reasons for this.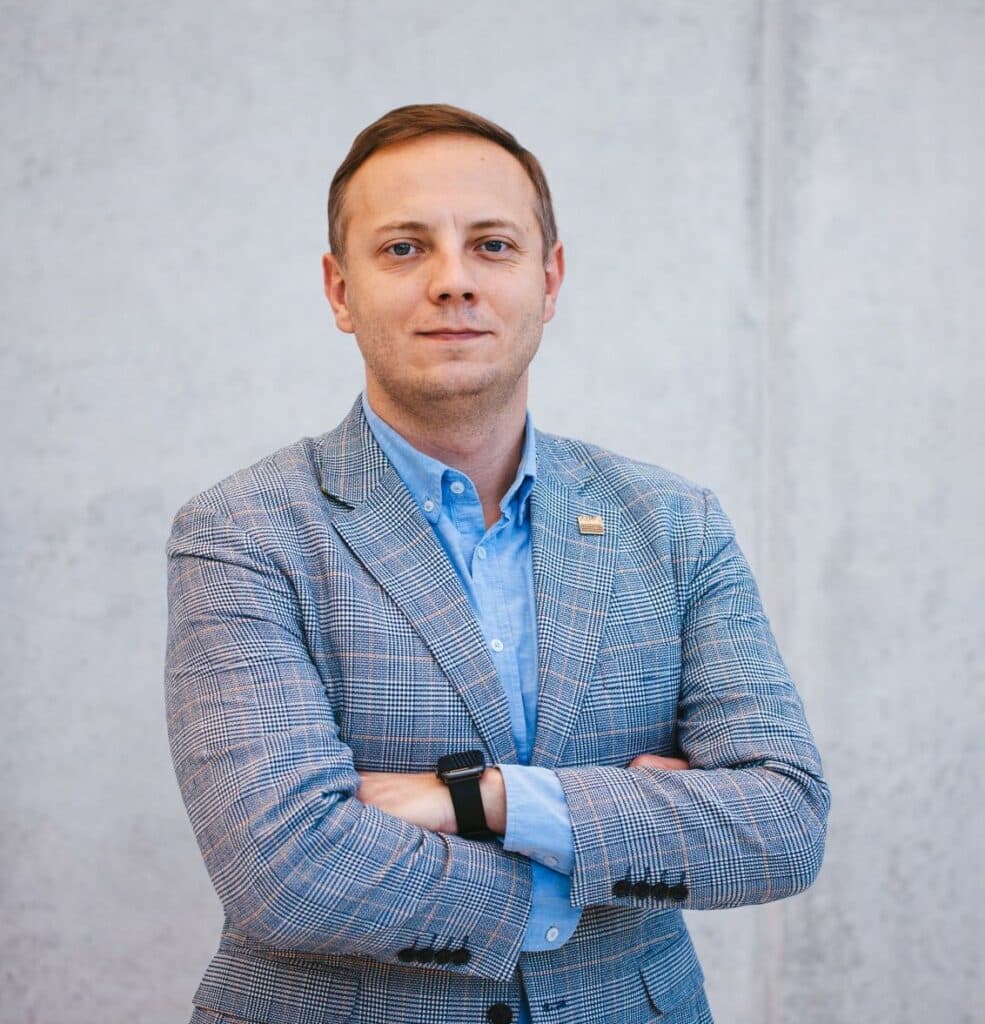 I have been working in the real estate market for 20 years and there has never been such pressure from companies to move to the center. It is probably the first time we have experienced something like this. Despite the fact that buildings in the center are significantly more expensive, tenants see the advantages that today can help them create a more interesting offer for their employees. And these are really examples that we didn't have a few years ago. Companies from Mokotów, which paid rent of EUR 13-14 per square meter, are now ready to pay more than EUR 20 for an office, to enable all employees from every side of the city to conveniently commute to work.
In order to kill this drive-time argument. Of course, in the case of Skyliner, the key is access to the metro, public transport in general, but also bicycle infrastructure. In Skyliner, we have over 400 bicycle racks, and the building has showers, changing rooms. Such things are more and more important for tenants, because they fit better into the lifestyle of their employees.
Let's talk for a moment about your tenants. It seems you have an interesting lease structure at Skyliner. There is no single leading tenant that has dominated the office building.
First of all, in this location you can clearly see which companies are most likely to move to the center. These are mainly companies from the IT, financial and insurance sectors. Most of the tenants in the Rondo Daszyńskiego area are companies from these sectors. These are also the sectors that react fastest to what is happening on the market, both in the macroeconomic aspect and in the real estate market. Our tenant structure is quite unique as we have 14 tenants and none of them dominate the space. From our perspective, this is less of a risk. Because even if someone wanted to give up part of the office, it would be easier to do. On the other hand, in the case of large tenants, who occupy tens of thousands of meters, often reducing the space for one such tenant by even 10 – 20% is a much greater problem for the owner of the building. With us, if a tenant reduces the space by 10-20% for three to four thousand meters, it is not a problem. We'll find someone for this place quickly. Although recently we have received signals from our tenants that they want to increase space.
I think many employers are still hesitating when it comes to renting or relocating an office. In the context of the situation on the office market, but also the rising prices of everything, do they risk higher rental prices by delaying decisions?
Today, building any building is significantly more expensive. We have expensive plots of land, and rising material and labor prices. It also costs much more to arrange the space, so this must be reflected in the rents. In addition, we currently have a low supply. So perhaps there will be a slight price correction during the year, but it also largely depends on how the investment market behaves. If the capitalization rates compensate a bit, then I think these hikes will not have to be that big. However, if the situation is as it is today, developers and building owners will strongly insist that rents go up.
So it's better not to delay the decision about the office if we want to have a lot to choose from?
There is still a small selection, but in the next two years there will be very few projects completed. A few more projects will not be completed until 2025. If someone ends their contract next year or in 2024, they will come to a point where there will be practically nothing on the market. And what will be, there will simply be products less attractive in terms of the quality of the location.
But we are also probably talking about companies that are just coming to Poland, for example from the aforementioned IT industry?
There are many new tenants who are just starting their activities in Poland. Karimpol is also, to some extent, a beneficiary of this situation. There are also very many companies that have operated in Eastern Europe – in Belarus and Ukraine. Many companies are transfering employees, be it from Minsk or Kyiv to Warsaw. If the situation with our eastern neighbors stabilizes, this business will probably return to these countries. However, it is not a matter of months, but rather years in my opinion.