'Othello, act I, sc. 3'
John Weisgerber is a Canadian theatre director, actor, and acting coach. He came to Poland 16 years ago and didn't expect that what seemed to be just a temporary change to help out a friend, would in fact reignite his dream of a creative life and open brand-new opportunities to pursue his life-long passion.
You are a theatre creative at heart and an enthusiast of Shakespeare's works. And you found your creative space here – so far from your home in Canada.
Shakespeare has always been present throughout my acting and directing career. I was studying acting at York University in Toronto when I saw Shakespeare In The Park for the first time. Canadian Stage was putting on 'The Dream In High Park' that was 'A Midsummer Night's Dream' and it was magical. When I arrived here, after a period of time I started feeling like something was missing. That's when it came back to me. I thought – 'I'm going to give them Shakespeare In The Park…somehow, someday. That's going to be my passion project'.
Why did you come to Poland in the first place?
I studied acting at York University and after graduating my love of Shakespeare lead me to LAMDA in London. I lived and thrived as an actor in the theatre in Canada and as well had a long career in hospitality in order to survive. Eventually, I was exhausted and disillusioned. Then an opportunity to go to Spain presented itself, so I took it and didn't even think twice. After 2 years I went to Thailand and I spent 4 and a half years traveling around South-East Asia. I started directing there – I directed an opera, co-directed a musical and I also acted. Then I went back to the South of Spain, but there came a time when I realized I could no longer take any more sun, sea, and tapas. I missed culture. So, I travelled to Poland to help out a friend with his company. It was a telemarketing job and it was supposed to last for only 6 months. I was going to give up the arts, go to Sydney to study at Le Cordon Bleu, and become a chef. But then – as it happens – one simple conversation turned everything around. I went to see a Warsaw theater group – Montownia. They were performing Sławomir Mrożek's 'The Party' in English. After the play, I asked if I could speak to one of the actors and Rafał Rutkowski came out to see me. We talked a little and then he asked me if I wanted to do something on stage. That was what I would call 'the' changing point, a new beginning.
What is your memory of Warsaw at that time?
Back in 2006 people weren't speaking much English really. In the educated circles – yes, but otherwise it was rather hard to communicate. My only contact with the world was Warsaw Insider. /laugh/ When I study or learn my lines I always do it in public – it opens my imagination. So, I would bring my book or script to the Sheraton Hotel (because people were speaking English there) and have a glass of wine or something to eat. One day a friendly bartender asked me – 'John, what are you doing here?' So, I joked and said – 'I came to find a Polish wife'. She came back almost immediately saying that she had someone for me. I guess the joke's on me because that's how I met my future wife. Against all my instincts I fell in love and we got married. Now we are the most happily divorced couple in Poland. /laugh/ But I stayed. I've built a professional reputation here – I directed in both Teatr Polonia and Teatr Komedia. I continued my career as a director, actor (occasionally), acting coach, and English language communication coach.
How did the 'Shakespeare In The Park' project develop?
I started thinking about it in 2013 and in 2016 we produced the first edition with 'As You Like It'. One year later we were invited to launch a business garden with our project in Warsaw and then we went with the play to Gdańsk, where we had been selected to play in the Gdansk Shakespeare Festival. In 2018 there was no money so we went about it in a completely different way. We did monologues, sonnets and scenes from Shakespeare's works – 13 sonnets in cooperation with Stanisław Sojka who wrote the beautiful music and performed in Konstancin. 2019 was a gap year because of teaching and directing responsibilities and that gave me the time to establish First Gate Theatre Foundation. In 2020 we were able to produce 'Romeo and Juliet' through generous sponsorship. We managed, during the pandemic and under restrictions, to put on 5 ½ shows (RAIN!) at the Grand Palace in Wilanów, which began our relationship and cooperation. However, we were able to do it in 2021 with 14 shows and much larger audiences. This year we did 'A Midsummer Night's Dream' and it seems like we have finally broken the ceiling.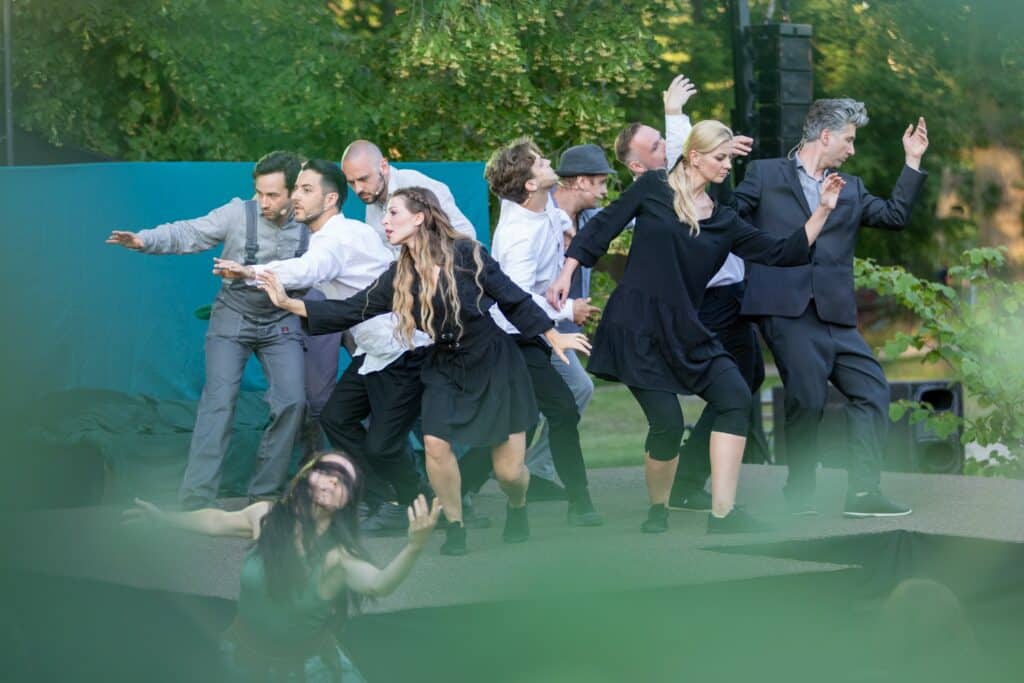 This year's edition was received with great enthusiasm and attracted quite an audience.
The highest audience members that we had last year were 480 people. This year on many shows well over 1000 people, second last show – 2610, and on our closing night, despite the threat of storms – almost 1700. Overall, there were well over 14 000 reservations. The response was unbelievable. I'm really amazed and overwhelmed but that is what happens when you work together. I had the most wonderful group of 20 actors! Now we are planning for the future and we want to take it to the next level. I would like to take it to different cities around the country and also to Prague. I'd like to even see if I could take it to Chicago.
You do a lot of work as acting and English language communication coach as well. What do you think about acting education in Poland?
I've worked both privately and within the educational system here. I think that unfortunately, there is just too much pressure on not making mistakes here, and there is this tearing down before you even build up. It doesn't help the creative spirit – doesn't induce or enhance any kind of creativity. It destroys it – just like ego. I find it particularly Polish and I think it has a lot to do with your history. The Germans destroyed your country, The Russians stripped you from your dignity. Hopefully, the next generations can begin to live their lives free of this history… this monkey on their backs.
Yet back in the times of communism, there was an opinion among the countries living under the Soviet thumb, that Poland was 'the merriest of all the camps'.
I think that Poles need to smile and laugh more. That was my answer when asked years ago why I direct so many comedies. Poles do love tragedy, especially in the arts. Me on the other hand – I prefer comedy. It gives me the opportunity to remove the boundaries and unite people through spontaneity. That's how a special kind of community is created – through a shared experience. And laughter is the best way to do that.
Do you see yourself staying in Poland forever? Where's home for you?
Well, I am Canadian but I consider myself more of a citizen of the planet. If I could choose a place to stay for longer, it would definitely be Thailand. But being in Poland for me means being in Europe and now I also hope to have more opportunities in other European countries. Some people tell me that I am able to get away with a lot here because I'm Canadian. /laugh/ I don't see it that way. It is hard to get through the establishment door and I was just lucky to do that here. Besides – I've had the pleasure of meeting the most wonderful people as a coach and director in Poland for so many years… and I would very much like to continue to teach acting Shakespeare in English anywhere in the world.