Just over a century ago Gdynia was transformed almost overnight from a fishing village inhabited by just over 100 people into a town of a quarter of a million and a modern Baltic port.
This modernist city, open to the world, has been gaining in importance for years, and more and more tourists spend their holidays there, using its rich infrastructure. Gdynia is also highly awarded in prestigious international ratings. Its development, new investments, climate protection, seaside attractions, good environment for education, culture and creative business development, safety and its family character attract business and new residents.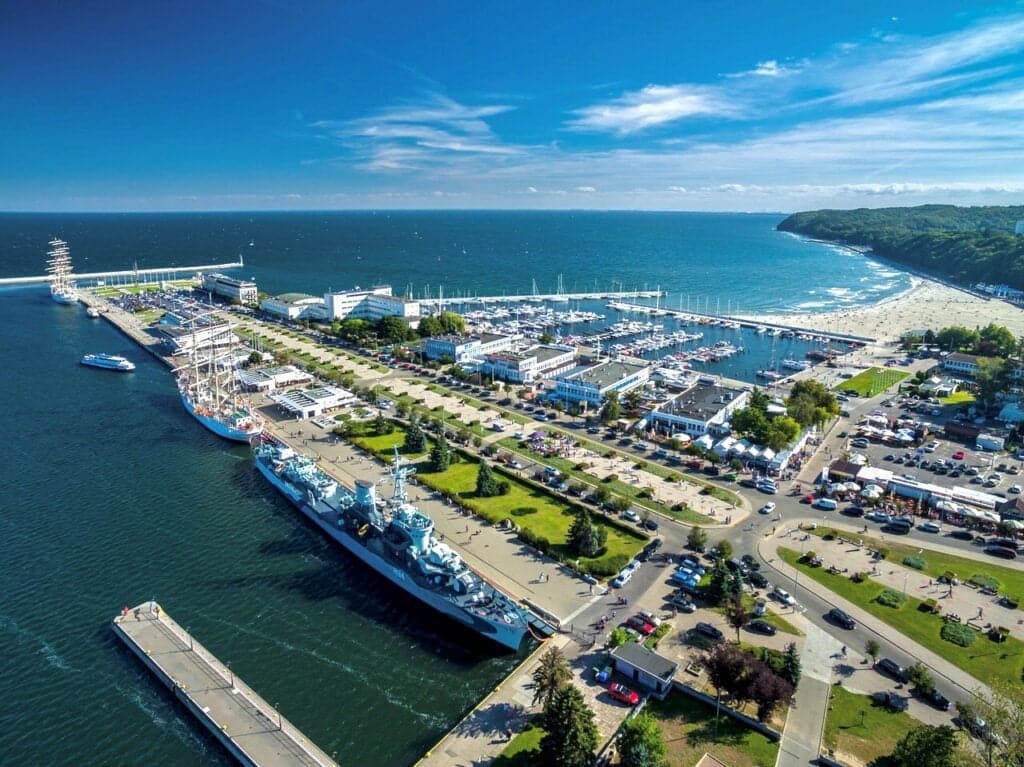 A study conducted for Gdynia City Hall by the Department of Geography and Regional Development of the University of Gdańsk shows that Gdynians are extremely happy to live there. As many as 88% of its residents are satisfied that they live in Gdynia. Adam Białas asked the Mayor of Gdynia, Wojciech Szczurek, about the most important issues regarding the city he runs.
What is currently encouraging investors to develop and invest in Gdynia?
Gdynia is a city that was created to become the Polish window to the world. This is where all maritime contacts with foreign countries – local government, cultural and economic – took place after Polish independence was regained [in 1918]. To this day, one of Gdynia's greatest assets is its strategic location at the intersection of important international transport corridors running from Scandinavia and North-Eastern Europe towards Southern Europe and the Mediterranean. Gdynia is also situated on the route connecting the northern part of Western Europe with Eastern Europe. However, we have a city brand with a good investment climate not only thanks to our location and history. This climate consists of a number of factors, such as the availability of staff, rich educational facilities with a large number of students and graduates in various fields of study and a wide range of talents. We tailor our educational offer to measure – it is adapted to the needs of the market on an ongoing basis, also in consultation with companies operating here. Other factors are: strength resulting from the large number of existing and operating companies in Gdynia that expand our market experience in the field of the services they provide, developing office and logistics infrastructure, and – crucially for an investor looking to employ many staff – quality of life, making it easy to encourage the relocation of employees from other voivodships and cities. This is extremely important, especially in relation to specialists and managers with high skill sets, but also in the case of junior positions in sectors such as IT or BPO / SSC.
In which business areas are foreign investors the most active and which are the ones chosen by domestic investors?
Gdynia has been proud of its reputation as a kind of Polish Silicon Valley. The areas in which foreign business investors are most active in Poland are IT and BPO / SSC. Precisely because of the above- mentioned availability of staff and the scale of the market. In this sector, mainly foreign investors operate here, but in IT there are also Polish companies looking for expansion opportunities within the main economic centers in Poland. Another very large industry is logistics services, including the handling of logistics processes. Domestic and foreign investors are equally eager to operate here. This is favored by our location on the map of Europe, but also by the high availability of staff – both the logistics graduates and employees already operating in the sector. Something that makes us very happy is that we also see a clear tendency to reinvest among investors already present in Gdynia introducing new services or processes.
In the case of business decisions, the history, location and identity of the city often play an important role. Gdynia is a unique city made of "dreams" and a "gateway to the world". How would you describe Gdynia's identity today – versus what it used to be and how does the transformation affect the city's attractiveness?
A city "made of dreams" or as a "gateway to the world" are not empty words or slogans in the case of Gdynia. Because it is true that a hundred years ago – i.e. in the overall scale of urban living not so long ago – the entire intellectual elite of Poland came here, precisely to open this window onto the world, and at the same time to make her dreams come true. It was a kind of Polish America, where you went to do what was impossible elsewhere. Hundreds or even thousands of visionaries who were not afraid to come here to make their dreams come true came here from all over the country. Because, hard as it is to believe today, Gdynia turned from a fishing village into a city of 100,000 in ten years. Today, the children of such parents live here, we are all their heirs – and this brings great responsibility. This boldness in implementing their plans, and at the same time pride in what Gdynia's people have managed to build, is visible here in every step and I think that it is highly contagious. Investors feel it, and since we are a young city, we are only the third generation of Gdynia citizens, it is very easy to acclimatize here. In the age of the Internet every company can be run in the middle of nowhere, away from business centers and that is a very big advantage.
What are Gdynia's development plans for the coming years – strategies, projects?
The world is changing at a dizzying pace, and in addition, the pandemic has shown that you should be prepared for all manner of scenarios. However, some things will not change. People will always want to live well, develop their professional passions and individual interests, spend time with family and friends or live in a clean, green and friendly place. Therefore, all development plans are focused primarily on the inhabitants of Gdynia, who are the city's greatest potential, who create it and for whom it functions. In the coming years, Gdynia will focus primarily on adapting to climate change, which is related to, inter alia, implementation of the KLIMATyczne Centrum Gdyni project and further development of zero-emission public transport, including tests of hydrogen buses (currently 29% of Gdynia's fleet are zero-emission vehicles). Unfortunately, development plans must be adapted to the shrinking revenues to the city budget, with the simultaneous increasing obligations imposed by the government.
Gdynia is still "growing" and is a well-known tourist resort offering much more than just a few central attractions. What attractions and events would you especially recommend to visitors?
What you will not find in any other large city in Poland is a beach in the very center of the residential downtown. It is the longest walking axis in the country, starting at the railway station and ending at a point extending far into the sea, the most beautiful Polish sailing ships mooring at the South Pier, ORP Błyskawica, the oldest destroyer still in existence, which took an active part in the battles of World War II. At ul. Polska 1, on the next quay, exactly where the ocean liners left Poland, we have the Emigration Museum, the only such facility in Poland. What you must see in Gdynia is the modernist downtown, despite the fact that it is young, with the title of the Monument of History awarded by the President of the Republic of Poland. The Experyment Science Center operates right next to the Pomeranian Science and Technology Park Gdynia. And next to it, the National Rugby Stadium, where you can watch this sport at the highest level. In the neighborhood, the Gdynia Arena hall, where the National Meetings of Travelers, Sailors and Mountaineers are held in the spring, and the Kolosy, the most important awards in this industry in Poland, are awarded every year. This is one of my favorite events. But we also have the Open'er music festival attracting thousands of people from all over Europe, the Gdynia Sailing Days regatta, during which every year sailors steal our city a bit, the Polish Film Festival in the autumn, Gdynia Classica Nova, the R@port Festival with the drama award and the City of Words accompanying the presentation of the Gdynia Literary Award. Actually, I don't know what I should invite tourists for – it's probably best for them to stay here, because a week in Gdynia is not enough.