Agnieszka Bulus-Trando talks to Ewelina Sowa, Team Leader Retail Poland, IMMOFINANZ.
Recently, there has been a lot of talk about ESG strategies or ecology itself as a kind of must-have for business. If so, how can the potential of such activities be used in the context of business optimization in the retail sector?
We implement our activity for sustainable development through specific projects from the entire IMMOFINANZ portfolio – including, of course, the commercial sector. The key objective of the introduced solutions is a measurable reduction of negative impacts on the climate, which will allow for the rational use of resources and thus effective counteracting climate change and meeting the needs of future generations. Of course, it also connects to the business aspect. It is a strategy that already allows us to develop faster and build a stable position in the long-term.

In our case, through various activities, including building awareness, we influence loyalty, i.e. we ensure a high level of customer satisfaction and attract new ones – thus maintaining a high occupancy rate. We assume that our clients, tenants and other business partners will increasingly choose buildings that meet appropriate environmental conditions. I believe that success today and tomorrow largely depends on whether we implement it in a sustainable manner, respecting ecological aspects.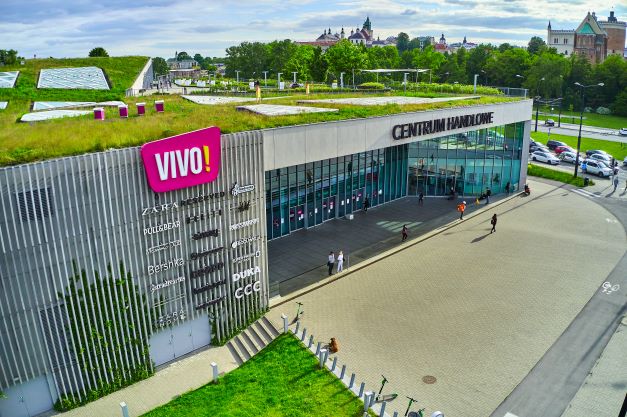 Can you tell us something about the specific activities that you are implementing in your VIVO! Shopping centers in this respect?
Our activities include both a number of large investments consistent with our sustainable development strategy, which is aimed to lead our company to a zero-emission status in 2040, and a number of smaller, but equally important and important projects. In four Polish VIVO! Shopping centers owned by IMMOFINANZ! we conduct, for example, a number of activities in the field of energy optimization, all tailored to the specifics of a given center. We replaced LED lighting everywhere, thus saving 30% of energy. All VIVO! have BREEAM certificates. They confirm that thanks to the implemented solutions, VIVO! are environmentally friendly places and operate in accordance with the principles of sustainable development.

However, certification is one thing, but when you get it, it is worth going further in your activities. On our roofs there are meadows referring to the local ecosystem, there are hives, houses and hotels for insects, and even – near VIVO in Stalowa Wola! – there is a waterhole for wild animals.

We also strongly care about the rational use of water. At the moment, in our facilities, we collect rainwater from the roof, which is stored in underground tanks, and we then use it to water the greenery. When it comes to saving water – from the technical point of view – we have implemented 30% water savings in toilets in our shopping centers, by installing automatic feeders and aerators in taps, we care for rational use of water, reducing its consumption per tap by up to 3 liters per day.
In addition, we have recently launched another campaign, also important for the environment, "New tenant – new tree" – for each brand that opens its business in our structures, VIVO! plants one tree in the surrounding area. Increasing the amount of greenery means not only cleaner air in the city, but also a chance to contribute to the process of shaping the surrounding landscape and a symbolic thank you to our tenants for their cooperation. Each of our new buildings is greener – it meets more and more stringent environmental standards.
Do you also educate your clients in developing new, more ecological habits in everyday life?
Definitely. We believe that specific actions of individuals can contribute to changes on a global scale. That is why we often invite our clients to participate. In our opinion, the key is to work at the grassroots level – making them aware of the issues and through education and promotion of good eco-behavior, which will allow many to transfer these good practices to their own households.
In Lublin, on the roof of VIVO! is a magnificent green meadow. We educate here by drawing the attention of visitors to the vegetation – the entire ecosystem has been carefully described on the educational boards. We also undertake many initiatives to support the development of our clients' eco-awareness, cooperate with local ecological foundations, organize pro-sales campaigns with ecological gifts, and clean up the surroundings of our centers. It is a whole series of real, smaller activities that engage customers and make them realize that it is worthwhile taking care and having an impact on the place where we live every day.