A city break in the capital of Poland will not disappoint anyone, as everyone will find something for themselves here. A city that was practically razed to the ground during World War II is now a truly European metropolis. Here, different colors of history are intertwined with the present.
Warsaw captivates with its non-obviousness and authenticity. It surprises tourists because hardly anyone expects what they find here. It is a place where lovers of discovering tourist attractions will find themselves, but also those who want to have fun. Recently, the city has significantly expanded its bicycle infrastructure. On the map of Warsaw, the spaces around former factories and industrial plants, after modernization, have gained a new life.
"We are glad that Warsaw is getting prettier. When in 2008 we were buying a plot of land with the Norblin Factory in Wola and when we were planning this revitalization project, Warsaw had much less to offer foreign guests. After one day of visiting the Old Town, Łazienki Królewskie and Wilanów Palace, there was actually not much more to see," says Kinga Nowakowska, a member of the management board at Capital Park.
"Today, thanks to old factories that have been revitalized, such as our Norblin Factory, but also Elektrownia Powiśle, Browary Warszawskie or Koneser na Praga, we have an interesting offer for both Warsaw residents and those coming to the capital. These places have restored hectares of wonderful urban fabric. Due to the historical context, they attract with their authenticity," she adds.
We invite you to discover Warsaw, especially in summer, because in addition to great spaces and a rich entertainment offer, the city offers typical summer attractions. Beautiful natural beaches on the Vistula River stretching along the right bank of the river in the city are a phenomenon on a global scale. This is a place for picnics, parties and various sporting events. In the summer months, it is bustling with life.
The right side of Warsaw also includes the districts of Praga Południe and Północ. This is where Centrum Praskie Koneser is located, a carefully restored former vodka factory. "Today it is a space where everyone can feel good, and at the same time spend a creative time and deal with everyday matters. All this is available in the surroundings of unique architecture, in a fantastic atmosphere," says Monika Piwońska from Centrum Praskie Koneser.
On the left bank of the Vistula there are the beautifully renovated Vistula Boulevards. The several-kilometer-long riverside promenade is a great place for a walk, a bike ride, as well as having fun in numerous music clubs and bars. On the boulevards, gazebos with deckchairs, stone benches and tree-branch seats await you. There is also a viewpoint and a mini beach with wicker baskets. In such a place, the symbol of the river and Warsaw – the Mermaid – could not be missing.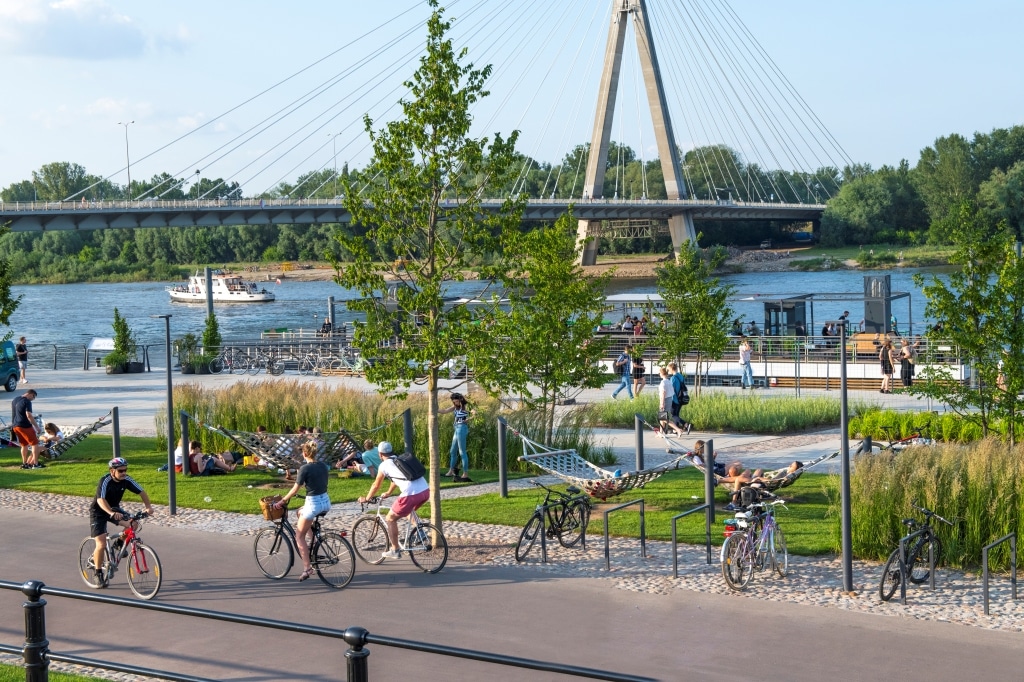 In the summer season, take a trip on the Vistula. You can choose, among other things, comfortable ships for a dozen or so people, motorboats, a historic vessel from 1892, ferries or canoes. In the immediate vicinity of the boulevards there are the Copernicus Science Center, the Museum of Modern Art and the Multimedia Fountain Park.
There is also the Powiśle Power Plant by the Boulevards. For almost 100 years, this power plant supplied energy to the city. Now, after revitalization, it attracts all those who enjoy good food, shopping and body care. If you are on the Vistula boulevards near the Copernicus Science Center, make sure to visit.
In buildings that formerly housed the boiler and engine rooms are several spacious, atmospheric bars and over a dozen restaurants serving delicacies from around the world, as well as many fashionable shops. It is very close to the Norblin Factory from the Powiśle Power Plant. We recommend bicycle transport, especially since parking it in the revitalized plants producing platters is an attraction in itself. There is an underground parking lot for bicycles, which is free until the end of the summer. Right next to the Norblin Factory is "Warsaw's Manhattan" with modern office complexes. Many tourists come to Plac Europejski – hidden between the buildings of the Warsaw Spire complex – to take a picture with a great installation and the slogan "I love Warsaw".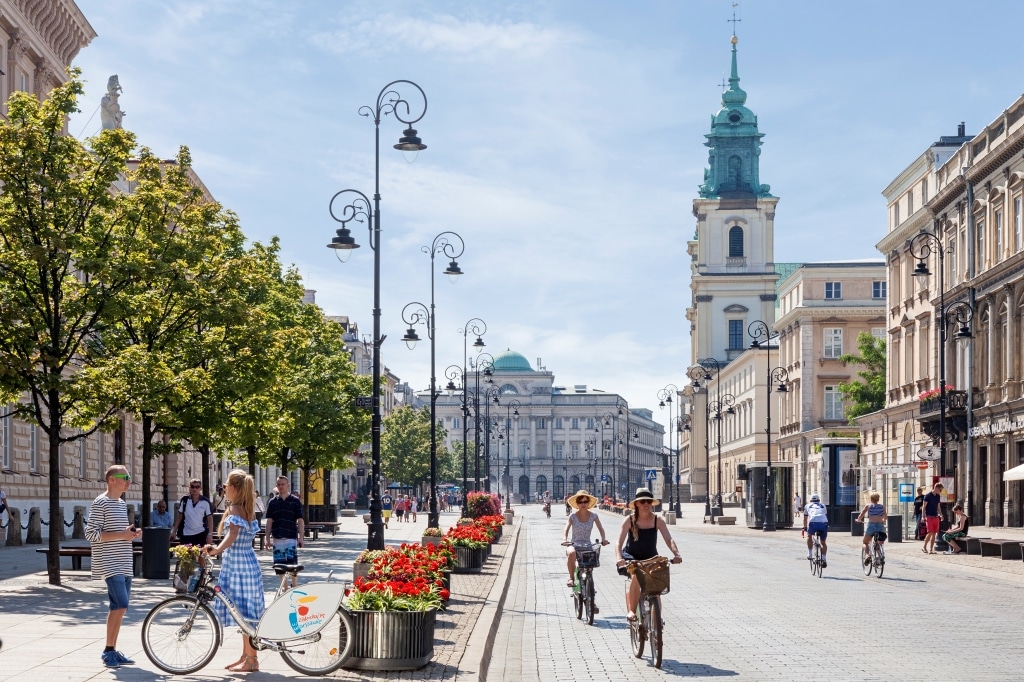 You can really fall in love with Warsaw. Her historical experiences, aspirations and energy of the people living here will be shared by every visitor. We invite you to Warsaw.