Would you like to live in a tree apartment, ecological containers, move to a palace in a wonderland, design and art, stay overnight in a floating hotel on the water, visit Hevelius, or spend time in an old mill, or maybe lazily lie on the beach in the year-round tropics? You will find all this in Poland.
You don't have to travel to the other side of the world to relax and get some distance. In our country, the tourist offer of places that compete in interesting ideas for attracting guests is growing every year. As calculated by the Central Statistical Office (GUS), at the end of July 2021, almost 10,000 people were operating tourist accommodation facilities. Polish regions have many great attractions to offer, here are some of the most interesting places that offer a unique idea for summer rest.
In the buffer zone of the Kashubian lakes
Leśny Dwór Sulęczyno
Kaszuby is famous for its delicious cuisine, picturesque lakes, walking routes and forest areas that allow you to escape from the hustle and bustle of cities. We will find monuments and historical objects worth visiting here. One of them is Leśny Dwór situated on Lake Węgorzyno in one of the most beautiful Kashubian towns – Sulęczynie. This unique facility provides an intimate holiday in beautiful surroundings and a high standard.
Leśny Dwór has a long tradition, which was built by the Heidenstein family in 1704 and was initially only the central part of the present building. In the 19th century, when the property was ruled by the Łaszewskis, side wings were also added. After the sale of the land and the court to the Prussian state, the land was forested and the manor house was home to a forest inspectorate. The building served the same function in the 20th century. Later, the building was transformed into a holiday resort, which it remained until 2014, and then, after the change of owner, it was revitalized into an elegant hotel complex – a place with a soul, surrounded by nature, an oasis of peace and respite.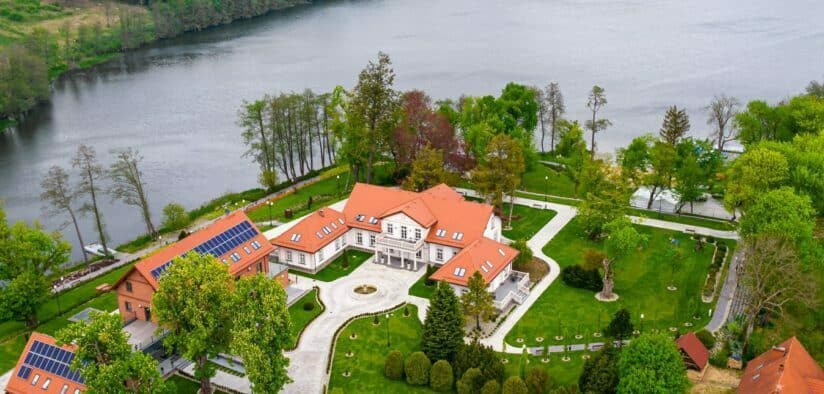 'Kashubian Switzerland' is a colloquial term for the central part of the Kashubian Lake District. The local landscape is characterized by numerous wooded hills, picturesque lakes and traditional towns. Its location in the center of the so-called Kashubian Switzerland, in beautiful natural circumstances, makes it an ideal space for a wonderful stay in a unique scenery with additional attractions in the bosom of nature.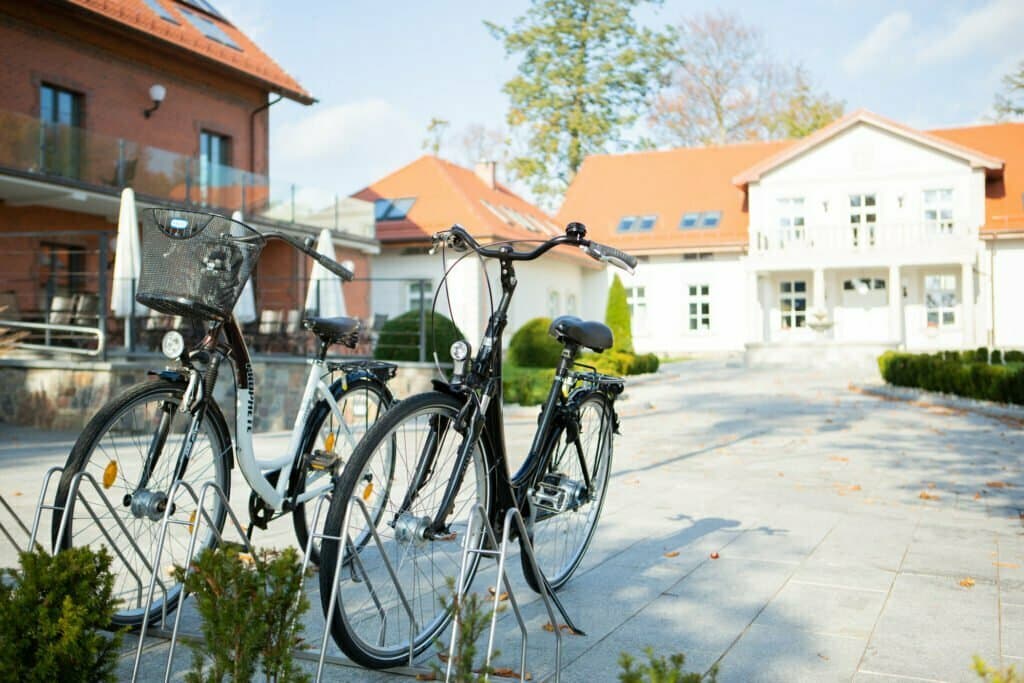 The facility is located close to the beach and guests have at their disposal air-conditioned rooms, some with a kitchenette. The wellness facilities at Leśny Dwór include an indoor swimming pool, a steam bath and a sauna. Sulęczyno and its surroundings are a great place to practice various sports such as trekking, cycling or water activities. It is also an excellent base for excursions, e.g. Kościerzyna is 24 km away, Lębork 34 km, and the nearest Gdańsk-Rębiechowo airport is 61 km away, you can also go to the Tri-City or stop on the way to Gdynia.
The factory of sweet relaxation
The Żnin Sugar Plant covers 35 hectares of space where the buildings of a 19th-century factory have been restored. An unusual industrial city where historical interiors are combined with modern design. The former sugar factory is not only a conference and leisure center, but a place where you can touch history, experience culture and discover new flavors. The property is located in Żnin, 42 km from Gniezno.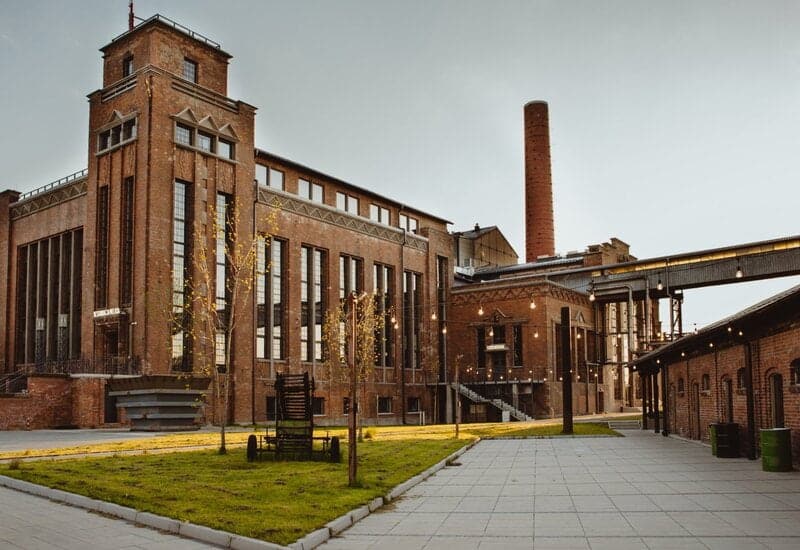 The Żnin sugar plant has been awarded many times in numerous competitions in Poland and abroad. For example, apart from the valued "Property Design," it also received one of the most prestigious architectural awards in Poland – the "Award of the Year by the Association of Polish Architects" in the "Architecture in the heritage space" category. Inowrocław is 39 km away, Bydgoszcz is 41 km away, and the nearest airport is Bydgoszcz-Szwederowo Airport, 40 km from the property.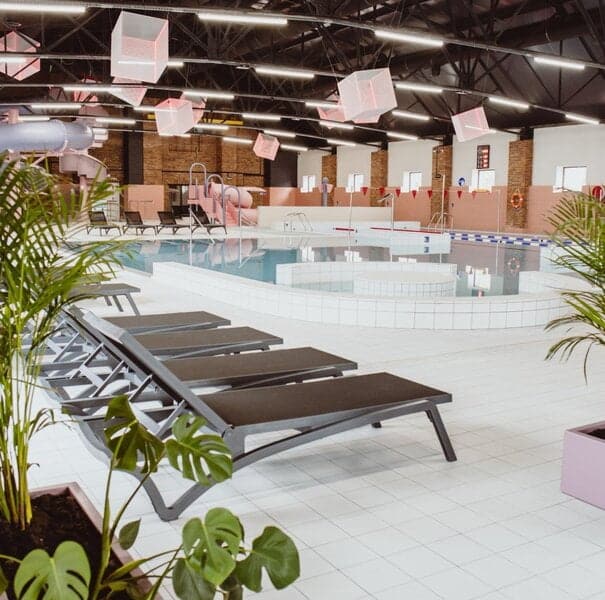 The investment by Grupa Arche SA was created in accordance with the idea of ​​a "city within a city," therefore in this post-industrial enclave on the shores of a lake we will find everything necessary for a comfortable stay, including: two hotel buildings, conference rooms, restaurants, bars, own brewery, cinema, SPA or water park. Guests have access to an aqua park, a wellness center and a children's playground in a separate building. You can play table tennis on site, and the surrounding area is popular for hiking and cycling.

Floating houses – HT Houseboats in Mielno
To feel the taste of real life on the water, we do not have to go on a long voyage – just go to Mielno and live in one of the unusual luxury houses floating on the lake. These facilities are located in the very heart of nature at Jamno Lake, only 300 meters from the Baltic Sea. Through the glass walls of the buildings you can admire the lake panorama and the magnificent Pomeranian landscape. It is also an ideal place for fishing and water sports.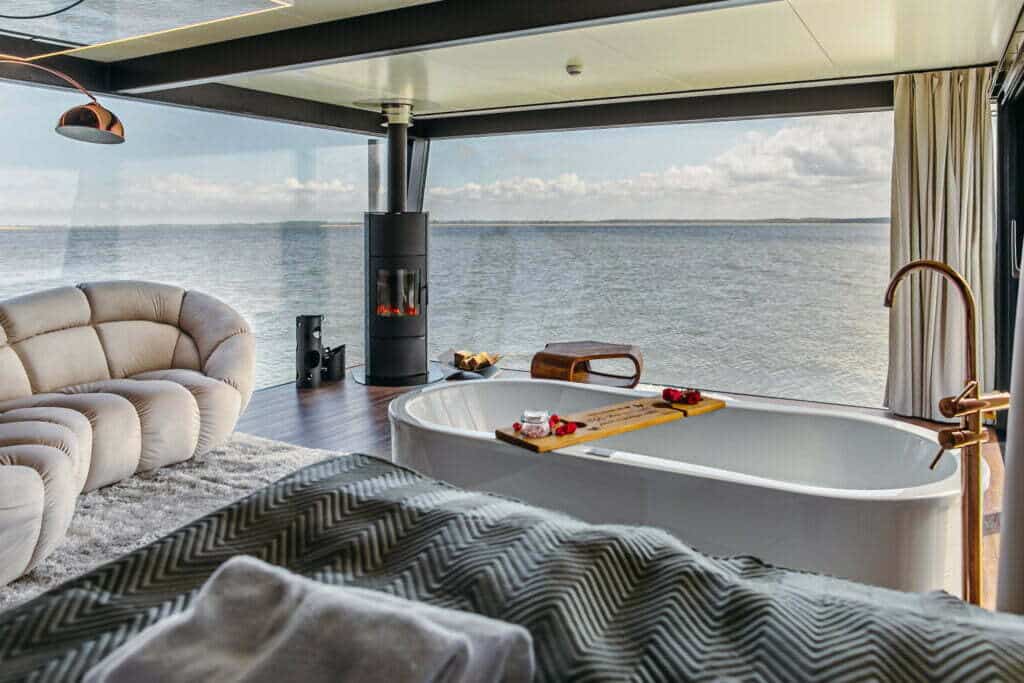 All houses have a bathroom with shower and a kitchenette, and some even have a sauna, fireplace and a motorboat. Each has a flat-screen TV. Guests can use a motorized pontoon, bicycles, tandems and pedal boats. There is also a water sauna on site, and visitors have access to a multi-functional sports field, a small rope park, a trampoline, a children's playground, a designated bonfire area and a herb garden.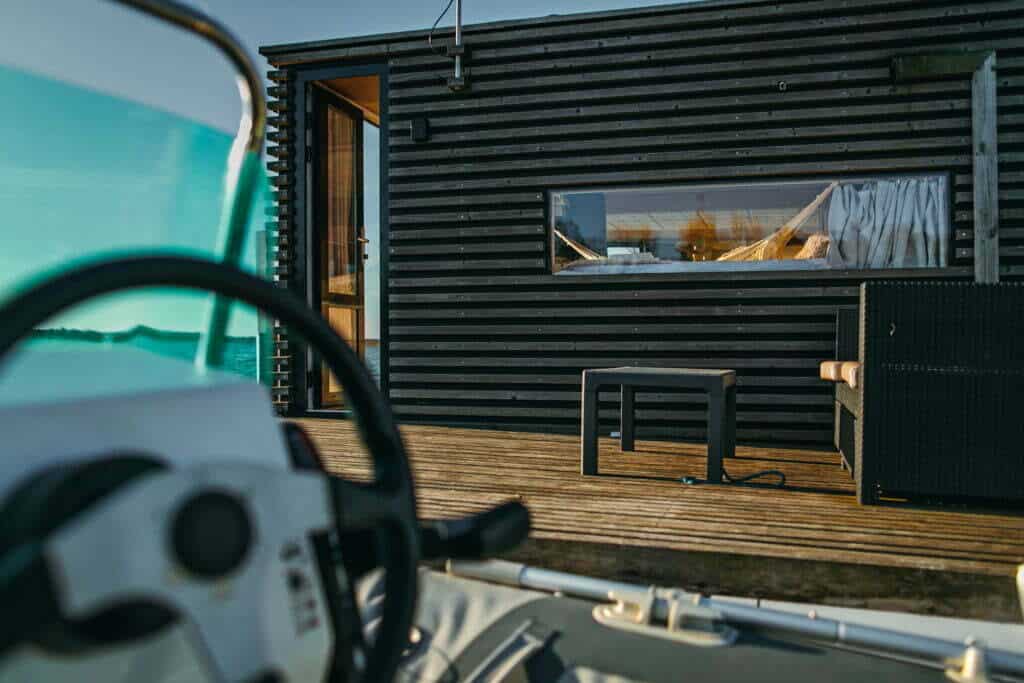 Guests can also book a session in a floating sauna, rent a jet ski or speedboat, and use kayaks, a tennis court and a seasonal outdoor pool. Additional facilities include barbecue facilities. All accommodation options have a terrace with garden furniture that is located directly next to the cottage or on the roof. The on-site restaurant serves sushi, and you can order a bottle of champagne, a birthday cake or a bouquet of roses. In addition, in this area there are fabulous beach houses run by the same company, where you can also spend your vacation in an original way. It is also worth discovering the beauty of Mielno during your stay.
In the old mill
Młyn Jacka Hotel & Spa
The fascinating history of the present facility dates back to the 1880s, when a certain Franciszek Foltyn won a million bricks at cards. He wondered for a long time what to do with them, until he finally built a factory which, after historical turmoil, was transformed into a mill. Today, Foltyna bricks form a modern, luxurious hotel where tradition meets the latest technological achievements, and a post-industrial structure with boutique decor and original design.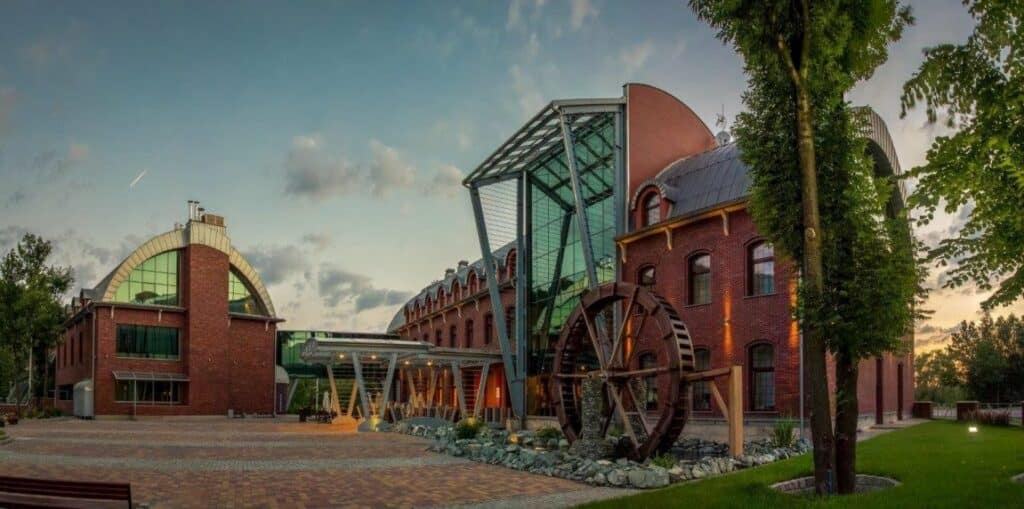 The restored facility impresses with its unique design, and the mill machines add sentimental value to the place. The hotel has 68 rooms and its suites feature a private jacuzzi on the terrace. There is also a bowling alley, a SPA zone with a swimming pool, an outdoor Russian tub, a dry sauna, a Roman steam bath and a bio sauna. It is worth going on a trip, among others to the Energylandia Amusement Park, Dinosaur and Dinolandia Amusement Park in Inwałd, or a boat trip on Lake Mucharskie.
In the rhythm of birds singing
IN TREES in Nałęczów
W DRZEWACH is the first family "guest house" in Poland, suspended a few meters above the ground, which guarantees that we will literally break away from earthly everyday matters and gray reality. Living in one of the few year-round tree houses, among the leaves, closer to birds, squirrels and the sky, we will be able to smell the forest and enjoy blissful relaxation. It is located in one of the most beautiful regions of Poland – in the gorges of Nałęczów and is immersed in an extraordinary forest garden filled with nature, where everyday worries are forbidden a few meters above the ground.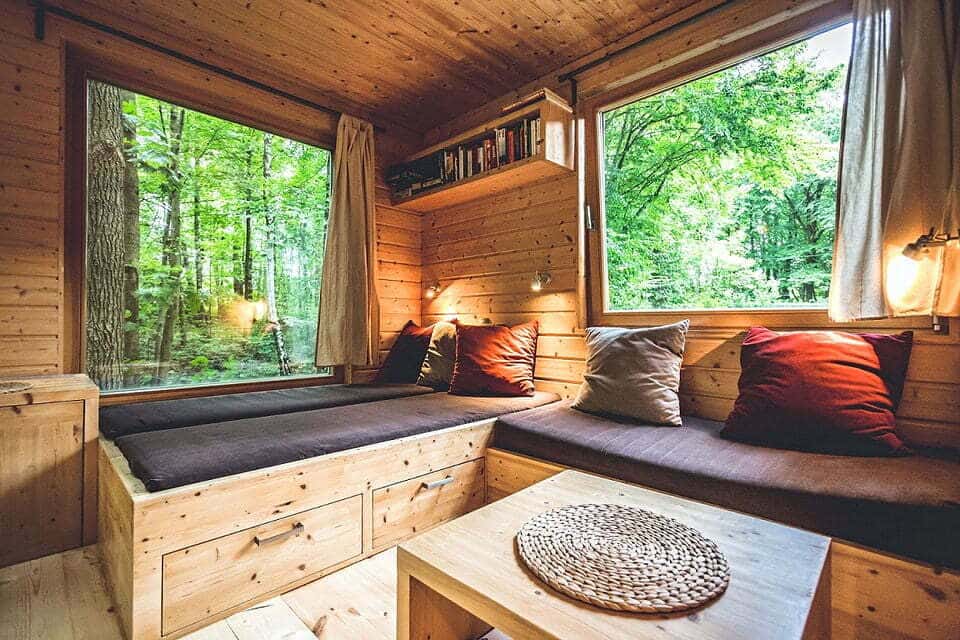 The flagship apartment is suspended at a height of 2 m to 4.5 m above the ground, and the entrance to it is squeezed between two trees growing side by side – a giant pine and a slender maple. Despite its similar nature, it is completely different from the other four. The main difference is the fact that there are two levels, where on the ground floor there is a living area with a bathroom, a dining corner with a bar counter, stools and a mini bar, and a "relaxation zone" with two comfortable armchairs and a table.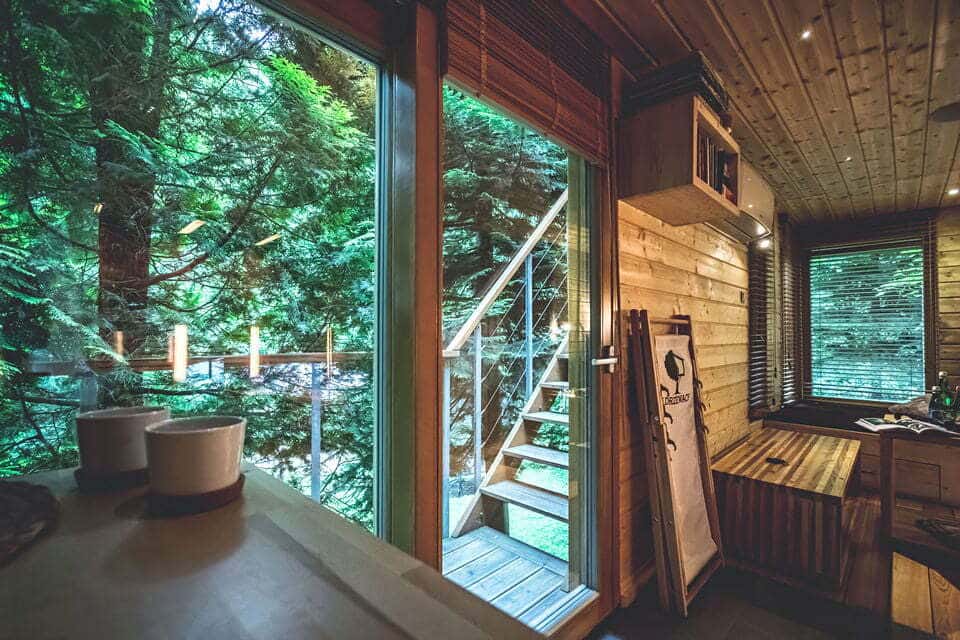 Among the nearby tourist attractions we can find bicycle tours. For example, there is a castle in Janowiec nearby, and Kazimierz Dolny, a favorite outing place for Warsaw residents, on the Vistula River. It is also worth getting to know Nałęczów, the showpiece of which is the Spa Park, founded by Stanisław Małachowski, with a rich 190-year-old tree stand, a palm house and a healing water pump room.