Christmas is truly a special time. Most often causing panic at the beginning – what to do, cook, what to buy? But after a while this turns into calmer, controlled actions.
When we sit down, with memories from years gone by, we realize that the proverbial bowl is not the most important thing, nor a star from the sky (perhaps ready purchased in a store), but the time itself. Time to be together, but also to consider without whom we will sit at the table because he or she has left us or is seriously ill. Christmas and Christmas Eve allow us to meet, talk, reminisce, cry. And that should be the most important thing, being together, making wishes according to tradition by breaking the wafer.
And that should be the most important thing, being together, making wishes according to tradition by breaking the wafer.
The wafer is often a durable buckle that allows us to connect with the people closest to us. And when this happens, there is a moment that envelops us from the inside, according to the saying 'through the stomach to the heart,' the hearts of our loved ones. I mean food, and the festive tradition, because it tastes best when prepared by ourselves and – if there was no time – then bought in a good delicatessen. However, I urge you, put less on the table but make sure it's been made by those sitting at the table. To help the dinner organizer, I suggest that everyone bring something they prepared at home. So, what do most Poles associate with Christmas Eve dinner?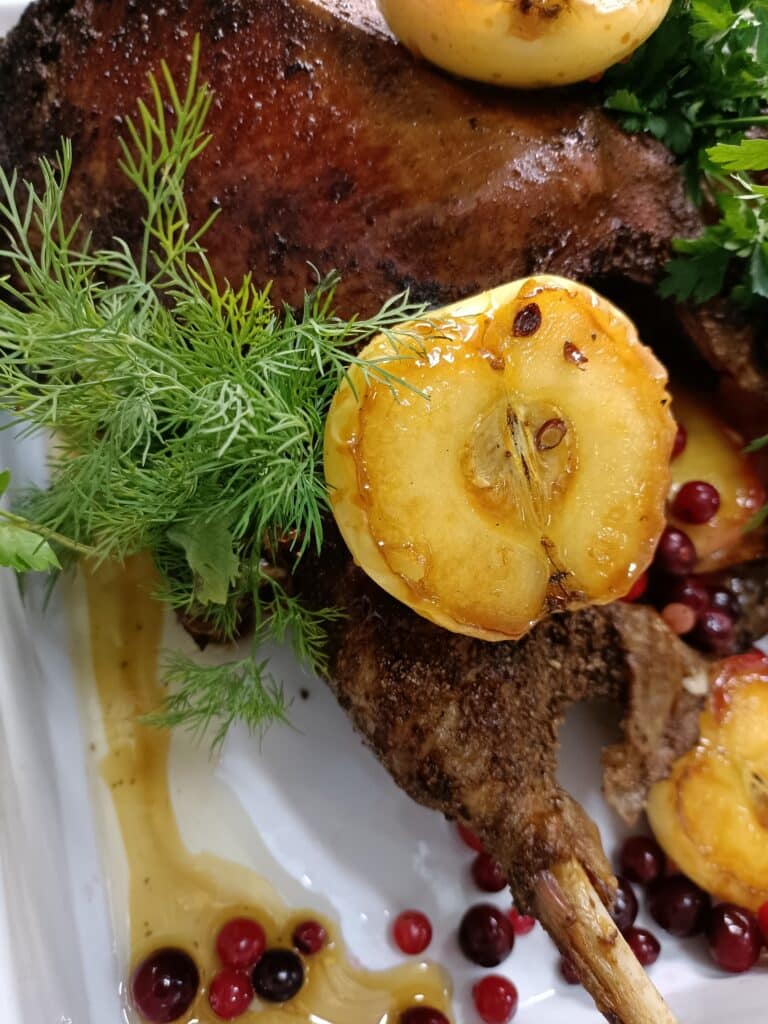 Oh, a lot of these culinary wonders are from herring prepared in 100 different ways, carp with a shiny scale with a delicate taste and aroma, and not – as it used to be – associated with the smell of silt. I don't know how it could have been, but it was. I remember. Now this fish tastes exceptional, fried in butter, sprinkled with flour mixed with breadcrumbs prepared by us personally from stale bread. And what else? Of course, ruby red borscht soups with espresso cup-sized dumplings or for those who like small stories, as tiny as a hazelnut. Borscht is one thing, but let's not forget about the smell of the forest, and in fact the smell of what we collected in the forest, I mean mushrooms, which were plentiful this year. Boletus mushrooms, boletes, dried brown in color after cooking, give the vegetable decoction an outstanding taste, an aroma that enchants us and attracts us to the pot where the mushroom soup is made. At home, I make classic square noodles, prepared by myself. But I have come across this soup also being served with pancake noodles, and I recently served our home-made mushroom dumplings with minced, golden-baked potatoes, fried golden onions, and freshly ground pepper personally in a grinder. Parsley and dill are herbs that give great freshness to these simple stuffed dumplings. And compote? Of course, smelling of smoke, sweet with dried fruit and honey, was, is, will be the best for digestion during the celebration. There is one ingredient among them all that we use during the kitchen and pre-Christmas struggles is poppy seeds. Poppy seeds are seeds of happiness. Hence, it must be included in our menu, but in what form?
The first thing that comes to my mind is poppy seed cake, a yeast-butter strudel, rolled several times so that there are as many squiggles as possible. But let's not forget about kutia, with wheat grains and raisins, poppy seed cakes with challah soaked in milk, or Krakow-style poppy seed noodles, also prepared with poppy seeds, honey and raisins. For me, a bowl of such noodles should be large in size because we all like to eat these noodles throughout the holidays. You know, fortunately. I wish you all happiness, from the heart, happiness is everything because when you are happy you are healthy. Let your meetings at the Christmas table be as numerous as possible and if someone is looking down on us from above, let a photo of this person be with us. Let him or her see how nice, familial and tasty we are. Here's to a Family Christmas!